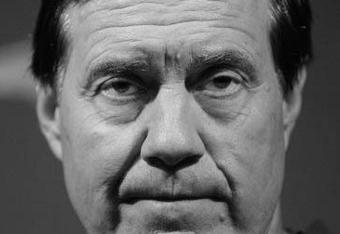 I get very excited about the NFL Draft, probably because I am one of seven college football fans in Massachusetts (GHABBY moving out of state because of extortion threats from the Irish Mob, and Smartybarrett couldn't name two ACC QB's if you paid him) . I love watching what happens to the big names, who will be the next JaMarcus Russell, homoerotic player profiles on ESPN, how will the Redskins screw up their draft, and of course what the fuck is Bill Belichick doing? And you have come here to read my insight, instead of listening to the drivel coming out of Cris Carter.
This year the Patriots are going into the draft with 4, yes FOUR picks in the first two rounds. You have to be smoking weed laced with quinine if you think that they are going to leave with those four picks. Come on folks, you know Belichick is going to send one of those picks back to the Raiders for their first round draft picks for the next fifteen years. This is one of the first years that I PRAY that Belichick uses all of those picks, because let's face it the Patriots have tons of holes (that's what she said). The Patriots have absolutely no pass rush, no top of the line RB, and big time needs on the Offensive Line. No seriously, our pass rush SUCKS, and what scares me is that it has SUCKED for a long time. Rational person would predict the Patriots would go after spots of weaknesses, but every year Belichick seems to just stick out his middle finger and draft whatever the hell he positions he wants.
So what do I think will happen?
With his first pick Belichick will fail to address the lack of pass rush and will draft, oh let's throw a dart at a board...Jake Locker. Hey why the hell not right? Tom Brady isn't getting any younger. Okay with the second pick, Belichick trades it, because god forbid he build depth with first rounders. Let's get eight seventh rounders instead! With pick #33 the Patriots will draft, a CB, true we have about 9 CB's, but WE GO WITH BEST PLAYER ON THE BOARD. And with the fourth pick, he drafts a kicker, because we can't risk Gostkowski going down again. There we go, that sound Belichick rationale. And to answer his critics Belichick fills the holes on defense with Junior Seau, Willie McGinest and Roosevelt Colvin. COME ON DOODS WE ARE MAKIN' DA SUPER BOWL WOOOOO!!!!