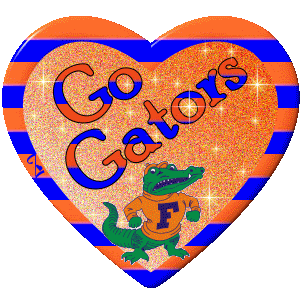 So here's the deal: This may be the most important game of my lifelong Florida Gator fandom. Granted, they've won three national championships and been in ten SEC championship games, but today...today is where the Gators could cement their legacy.
Think about it. If Tebow puts in a good performance today, he probably wins the Heisman. That would be his second Heisman, making him the second person (Archie Griffin) to win two Heismans. Two Heismans and (at least) two National Championships would make it very hard to argue against Tebow as the greatest college football player of all time.
But it's not just about Tebow. If the Gators win today, they're in their third national championship in four years. I've seen Texas, and while they're not bad, Florida's defense is just too good to lose to the Longhorns. So if Florida wins today, they have a
better chance than not of winning three undisputed national championships in four ye
ars
. Nobody has ever done that, though Nebraska came close (won in '94 and '95, split the NC in '97). Not Notre Dame. Not Alabama. Not USC. Nobody. Nobody will have been this dominant over a four-year stretch.
If Florida loses? None of that happens. And Alabama, the
5th-dumbest state in the nation
, wins. A Florida win is a victory for legacy. A victory for history. A victory for education. A victory for...well..me.
4:05: Glad they showed Tebow pregame so I could know to wear my #15 road jersey rather than my #1 home jersey. And no, I'm not joking, I actually rotate my two Gator jerseys as to whether they're home or away. Whatever, fuck you guys.
GOOSEBUMPS after showing the history of Florida/Bama games. Glad they roused Spurrier from his busy schedule of golfing and not coaching South Carolina. Just kidding Childhood Father Figure, you know that I love you.
4:15: Bame comes out in the spread. Weird, though I think McElroy ran that system in high school. If Dunlap was still there and didn't turn his blood to 40% alcohol on the MONDAY BEFORE THE SEC CHAMPIONSHIP that probably wouldn't happen. Fuck that angers me so much. Really Carlos? Really? You just cost yourself about 30 million dollars by hopping behind the wheel.
Also, I'm in favor of the new white UF helmets, pretty fucking slick looking. Cmon GHABB,Y, focus on the pretty helmets, and not my seething anger at our star DE with flammable blood.
4:20: Bama strikes early with a 48-yard field goal.
Bad guys 3, Florida 0
. Not the greatest start.
4:36: FUCK FUCK FUCK. After we had an embarrassing three-and-out, Bama just gashed the Dunlap-less defense again to score. McElroy has had ALL DAY to sit in the pocket. It's disgusting.
Bama 9, Florida 0.
Must. Not. Kill. (edit, at least they missed the extra point. We saw how that haunted Pitt earlier today...)
4:53: A decent Gator drive stalled out at the 30, but resulted in a Sturgis FG. Bama 9, Gators 3. I'll take being down six after that disastrous quarter though. Also, when Sturgis makes his first long-distance FG, it's usually a sign of good things to come the rest of the game, so at least it seems he won't be slumping today.
5:02: Now
that's
the Gator defense I was hoping for. Brandon Hicks just knocked his helmet off tackling Ingram on 3rd down. Still, on the ensuing punt, Brandon James just got tackled...
by the fucking kicker.
One manly play followed by one that reeked of vagina stank.
5:17: I was wrong about the three-out of four national champions thing - apparently Notre Dame and Minnesota (really?) have done it. Though nobody has done it since the '40s. And if Florida keeps playing like this, they won't do it either. This is fucking miserable.
5:24: Field goal Bama. At least they stopped them in the red zone. It's these minor victories that are stopping me from going outside and viciously punching children in the street.
Alabama 12, Florida 3.



5:29: A
nd Tebow starts Fucking. Shit. Up. 22-yard run followed by a first-down run that drew a 15 yard penalty. And then
TOUCHDOWN David Nelson. YES YES YES YES YES. This was
Tebow's drive. Tebow took a team that had been in the shitter for nearly a full half and in a few plays singlehandedly carried them to within two points. He can win this game by himself. You shall have no other gods than Tebow.
Bama 12, Tebow 10.


5:35: Aaaaaaah and I spoke too soon. Ingram just caught a screen for 69 yards. Goddamnit. Simply put - if Florida wins this game, Tebow wins the Heisman. If Bama wins, Ingram will probably take it home. If there's a tie, then Pale Horse Toby Gerhart whites his way to the Heisman. Bama scores one play after the run and it's
19-10 Bama.
Cocknuckle.
5:44: 59-yard pass to Cooper. Sadly, Gators stall out after that pass (including an excrutiating double-dropped pass) and have to settle for a field goal. But if this game is gonna turn into a shootout,we just have more talent on the offensive side of the ball than Alabama does. I'm cautiously optimistic, especially with how Tebow's playing.
Bama
19, Gators 13.
6:25: I figured Florida would start the half taking back momentum but notsomuch. Ugh. Three-and-out on offense, and then giving up chunks of yardage to Bama on their opening drive. Oh, and that stupid fucking roughing the passer penaltly didn't work. Touchdown Bama. FUCK MY LIFE.
Alabama 26, Florida 13.


6:43:
It isn't even
that Alabama is crushing ou
r defense, it's

how

. Ingram has more than 140 rushing/receiving yards and McElroy is averaging more than 14 yards per completion. Nobody on our defense is playing well. They're beating us up the gut AND through the air. We've already given up more than 380 yards, and we average 220 yards TOTAL given up per game. It's one thing when you lose, it's another thing when you just get beat. We're getting beat.


7:00: Touchdown Bama. 17-play drive that served as the last fucking death rattle of my hopes and will to live.
Bama 32, Florida 13.
Horrifying. Saddening. I want to fucking cry.
7:10: Gators drive down the field, but throw an interception in the end zone. If that ain't a metaphor for the season, I don't know what is. I think I'm going to end this live blog now so I can go drink and cry.