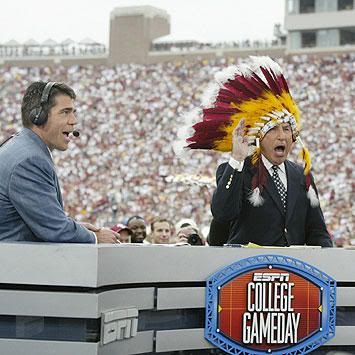 Pregame Festivities:
As most of you saw, ESPN Gameday inexplicably came to BC to cover this game. Needless to say, the extra attention to my school gave me a bit of a chubby, so I headed over with GHABBY and our significant others (not Matt Ryan and Tim Tebow). The weather was lousy, Miss GHABBY hit a guardrail on the way to the game, and we were late. So when we got there, where did we stand? About as far to the side as humanly possible, but still close enough to the action that we could see Lee Corso's merkin perfectly. We brought signs, which though offensive, we felt were rather humorous. GHABBY had "Smallpox>Seminoles" and I had "Herzlich beats cancers, Long Division beats FSU". I was pretty proud of our witty signs. We did our best to make the signs look pretty, which included my handwriting that resembled a 3rd grader, and GHABBY's yard stick sign holders. Well, within five minutes of holding up the signs the BCPD asked us to take them down, GHABBY asked nicely why, and the cop responded "BECAUSE I TOLD YOU TO". So instead of getting arrested we complied, and that was the end of our signs. It was irritating as hell though because all the other students who had giant Kirk Herbstreet head signs, and the billion generic Herzlich eyeblack signs got to hold theirs up. Guess the private Catholic Boston College isn't very progressive. Tedy Bruschi was at the game, which rocked my shit.
The Tailgate:
Nothing really new to discuss here, the Flabongo made its grande re-appearance and we drank all of the beer in our coolers before the game. My wife and two other girls at the tailgate destroyed three bottles of champagne. The lesson learned during this tailgate is that GHABBY is very similar to a 2 year old, because the two of them need naps....ALOT. As we were eatting and drinking, I asked his girlfriend where he was, and the response was "Taking a nap in the car".
WHO THE FUCK TAKES NAPS DURING A COLLEGE FOOTBALL TAILGATE?
Florida fans thats who. In case you were all wondering this weeks spread included: Sausage subs with peppers and onions, italian subs, buffalo chicken dip, veggie platters, cookies, my god my cholesterol must look like Mark Mangino's after a weekend at Country Buffet.
The Game:
"BC isn't going to be very good this year, their QB is unproven and their recruiting class sucked"-
every pundit in America about BC every single year
. Yes this includes my buddy GHABBY, who likes to rip on BC every year (oh and by the way he bought a BC tshirt during the game and openly admitted that BC was his second favorite football team). Let me say, this team is pretty good this year, and David Shinskie is going to be a solid quarterback. Mark Herzlich who's white blood cells are chasing and spearing cancer cells in his body as we speak whooped up the crowd before the game and introduced the team which got my juices flowing. For the second game in a row, the offense moved the ball well, and for the second week in a row they almost blew the game. Montell Harris (my man), saved the day with a 42 yard run. Is Bobby Bowden's career over?
This weekend its off to VT against the #5 Hokies. If I remember correctly the last time we played them a certain someone hit a last second touchdown pass to win the game who was that again?