Holy crap. I mean jesus. First game of the year and we are treated to this gem of a game. True the Patriots did not look as crisp as you would expect, especially against a team like Buffalo that they had previously beaten 11 times in a row. The running game and defense was very shaky but hey a win is a win, and when your quarterback has just returned from having his knee shattered, I think there is a lot of good to take out of this one.
Lessons learned:
1. Tom Brady is back. Well sort of. No matter what Ron Jaworski crooned about last night, Brady did not look like 2007 Tom Brady. Jaws loved to show slow motion replays of Brady (probably to stare at his perfect body...well that's what I was doing)but the passes he was throwing wobbled, were too high or behind his receivers, or he missed them all together. But being his first game Brady deserves a pass on that, plus he THREW TWO FRIGGIN TOUCHDOWNS IN TWO MINUTES.
2. I love the throwback jerseys both teams were wearing, the Pat Patriot jerseys were much missed, but what the hell were the refs wearing? I understand thats the old school ref jerseys, but they looked like Creamsicles, or even worse Michael Stipe as Captain Scrummy in Pete and Pete (thank SB for the reference)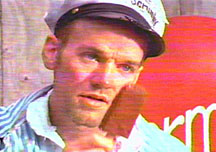 3. Ben Watson can successfully complete a game without: dropping a pass, getting hurt, or vanishing. In fact he played so well that we can all forget that we wasted an entire draft pick on Alex Smith, and traded the non-Wendys Dave Thomas to the Saints. Now it is time to see if Mr. Watson can do this in more than one game this season.
4. Prepare yourself for insane ramblings about the new rules about roughing the passer. I AM SICK AND FUCKING TIRED OF ALL THESE GODDAMN YELLOW FLAGS FOR TOUCHING A QUARTERBACK. TRENT EDWARDS HAD THE BALL IN HIS GODDAMN HAND AS THEY WERE TACKLING HIM! YES I KNOW TOM F'N BRADY GOT HURT LAST YEAR FOR A LOW BLOW BUT I DON'T FUCKING CARE, THIS IS FOOTBALL FOR CHRISTS SAKES NOT SOCCER. I WANT TO SEE UNCENSORED VIOLENCE THANK YOU VERY MUCH.
5. I don't care about Jay Leno's show, and I don't think many other people will either after the initial shock and awe effect wears off. Please stop interrupting every show with your big butt chin and stupid jokes. Your show is going to fail at 10pm, because I think most people who are watching TV are going to watch anything but your lame ass monologues. Oh Kanye West and Taylor Swift are fighting! How topical!
6. Jerod Mayo's injury makes me a sad Panda. It seemed that after Mayo went to the sidelines with the knee injury, Fred Jackson turned into Maurice Jones Freaking Drew. I mean jesus this is Fred Jackson, who I don't know if Al and Cris mentioned this enough played in NFL EUROPE TWO YEARS AGO. How are we going to stop a good running back? Luckily we only have to face Thomas Jones next week.
7. Randy Moss is >>>>>>>>> than Terrell Owens. At points during last nights game I forgot that TO was even on the Bills. I heard that afternoon that some scout thought Owens is starting to look and play old, and if he is going to only catch 2 passes the whole game and get nailed for Offensive Pass Interference, they may be right. He totally deserves the non stop publicity storm that follows him and feeds his ego. Like ESPN's two minute montage of TO mouthing off to refs, fans, Jeff Garcia, his mom, the Pope, Tim Tebow and Megan Fox. Moss on the other hand is still Randy Moss, and I still love him. No homo.
8. Laurence Maroney is still Laurence Maroney. At least he didn't get hurt?
9. What the heck is the deal with the cheerleaders? It was 70 degrees out and they are completely covered from head to toe. Don't they realize that their sole purpose as a cheerleader is to arouse the crowd with hand stands and split that show off just a little less than a stripper at the Foxy Lady.
10. There is NO WAY this team is going 16-0. Just saying. Oh yeah and evidently Tom Brady can say no to a chick. Don't worry Suzy, Broadway Joe's offer is still on the table.