Because HZMLS (our normal football correspondent) is no doubt inundated with thank-you notes due to his recent nuptuals, I figured I'd take this one off his hands for him.
Dear Mr. Davis,
I would first like to apologize, as this expression of gratitude is long overdue, and I deeply regret that I could not get a note out to you sooner. There are so many things to thank you for, I hardly know where to start. But I guess there's no better place than at the beginning.
Thank you for Randy Moss. Not many GMs around the NFL would have let him slide for a 4th round pick like you did, but not many GMs have a kind heart overflowing with generosity like you do. To top it off, you used that 4th pick to draft a player who spent nearly all of the 2008 season on IR. Meanwhile, Moss was leading us to an undefeated regular season, shattering records in his wake. I anticipate something similar this year now that Brady is healthy again, while you still sit there with essentially nothing in return. But that's the kind of giving I've come to expect, and I can see you sitting there, smiling, like a parent on Christmas morning as their child enjoys their new toy. Best. Gift. Ever.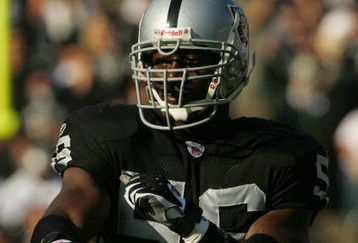 Thank you for Derrick Burgess. Once again, you gave him to us for practically nothing, another amazing gift from a good samaritan such as yourself. Third and fifth-round picks were a very small price to pay for a 2-time Pro Bowler, but you already knew that. You remind me of a clown in a parade, throwing candy and trinkets from your float for all to collect. When I see Burgess unload on an unsuspecting QB this year, I will think of you, and your willingness to unload one of your better players to the New England Patriots once again.
Finally, thank you for the 2011 first-round draft pick. Not only will it most likely be a top 5-10 pick (thanks, JaMarcus!), but the Patriots will also be able to take advantage of the first year of a rookie salary cap! And thank you for taking Richard Seymour off our hands. No offense to Richard, I love him, but he's lost a step in the past few years. He's been hurt. He'll be 30 in a few weeks, which is getting up there in football years. So have fun paying his huge salary as he most likely declines in value. Wait, what? He
hasn't even shown up yet
?
Well even if other teams around the league hate your guts for your
boneheaded moves
incredible generosity, you are appreciated here in New England. Here's to another disgraceful Raiders season. Keep sending the team's bright spots eastward.
Sincerely,
Smarty Barrett