Tonight, i will not be watching the Celtics, Bruins or Red Sox, because my favorite wrestling promotion on the planet is making an appearance in our fair city this evening. Ring of Honor Wrestling will be making an appearance at BU's Case Gym, with belltime starting at 8pm. I had the pleasure of interviewing Ring of Honor ring announcer Bobby Cruise leading up to tonight's show, and we talked about wrestling, man-makeup, wearing awesome suits, and why "Jesse's Girl" is a fantastic karaoke song:
GHABB,Y:
How did you get your start in wrestling?
Bobby Cruise:
Well I grew up in the Fall River area, and grew up as a huge fan of wrestling in general. Knowing that I wanted to be involved in the business, I sent letters to all of the local promotions, asking if I could try out as a ring announcer. Yankee Pro Wrestling, now known as Top Rope Promotions gave me a shot, and I ended up moving up the ladder there to become their booker (storyline writer). That's where I met former ECW champion Steve Corino. In 2003, Corino was about to head to Ring of Honor and called me one day with the idea of having his own heel ring announcer, so I started making appearances for ROH. The idea was great – it drove the fans nuts, and helped get Corino over as an old-school heel. A year later, ROH brought me on as their full-time announcer.
GHABB,Y:
What sets Ring of Honor apart from other wrestling promotions that fans might see?
Bobby Cruise:
Expect to see a lot more actual wrestling. Ring of Honor is all about professional wrestling, not the "Sports Entertainment" that you see from other promotions. We're wrestling focused above all else. We recently gained a deal to have a one-hour TV show on HDNet, and we average about 42 minutes of actual wrestling on the show. Conversely, TNA averages 20 minutes of wrestling for a two-hour show. We have some of the best pro wrestlers in the world, and anyone who is a fan of the in-ring action will be blown away by what they see.
GHABB,Y:
What Ring of Honor wrestlers would fans especially enjoy?
Bobby Cruise:
Bryan Danielson has been widely recognized as probably the best technical wrestler on the planet right now, and Austin Aries is right there with him. Those guys can do things in the ring that other wrestlers can't even fathom doing. Jerry Lynn is our World Champion right now, and he's also one of the best wrestlers on the planet, having worked in promotions all over the world. Colt Cabana and Jimmy Rave also returned to Ring of Honor recently, and their recent appearance at the Hammerstein Ballroom in New York City blew the roof off the building.
GHABB,Y:
You mentioned that Ring of Honor now has a show on HD. How is preparation for a television show different than preparations for regular Ring of Honor events? Do you have to slather yourself in makeup?
Bobby Cruise:
It's not all that different for me. You hear me more than you see me on the show, so I don't have to wear any makeup or look any different. It's slightly different for the wrestlers however, as they have to be more conscious of timing issues and cues and the like.
GHABB,Y:
I've been to Ring of Honor shows in Boston for the last few years, and noticed that the guys tend to put on some of their best performances here. Would you agree?
Bobby Cruise:
Definitely. The Kevin Steen/El Generico vs. Age of the Fall title match took place at our last show in Boston, and was rated one of the best matches of the year. The crowd in Boston also is very loud and enthusiastic, especially now that we've moved to our new home at the Case Gym. Our wrestlers perform better when there's a loud crowd behind them, and the last few crowds at BU have been fantastic.
GHABB,Y:
You've also worked for the WWE and in Japan. What were those experiences like?
Bobby Cruise:
I announced four shows for the WWE when they were starting up their new version of ECW. It was a fun experience, though I'm definitely happier to be working for Ring of Honor. I'd always wanted to work in Japan, and I've now been lucky enough to make six separate tours there. Japan is fun but challenging, as the language barrier often gets in the way, but overall it's an amazing experience and a fun change of pace.
GHABB,Y:
What are the advantages to working for Ring Of Honor over Japan or the WWE?
Bobby Cruise:
It's funny, people seem to recognize me all over the world due to my work with Ring of Honor. I've walked down the street in Japan or the UK, and people have stopped me because they recognize me as the Ring of Honor announcer. That completely blew my mind – if you told me as a kid that I'd grow up and get recognized walking the streets in England as a wrestling ring announcer, I wouldn't have believed you.
GHABB,Y:
You're a local guy. Are you a big sports fan, and is it hard to keep up with your teams while on the road?
Bobby Cruise:
I'm a huge Patriots fan, and I keep up with them as much as I possibly can on the road. I'm actually a big San Jose Sharks fan too, as I grew up following Jeremy Roenick. I love how hard he plays and how doesn't b.s. anything in interviews. As far as keeping up with my teams, with cellphones nowadays, you can get scores at an instant. One funny experience I had was when working for the WWE – we happened to be in St. Louis during Game 5 of their World Series against Detroit, and we had to give score updates in between the matches. We might have to do that again Friday night, with both the Celtics and Bruins playing.
GHABB,Y:
Ric Flair, my personal lord and savior, has started appearing at recent Ring of Honor shows. What have your impressions been of Flair, and who has been your favorite Ring of Honor guest star?
Bobby Cruise:
Flair has been amazing. He's extremely cordial, goes out of his way to do the right thing and always does what's asked of him. He's also provided some great exposure for us, because the average person flipping through the channels will see Ric Flair on a commercial advertising Ring of Honor and become immediately interested in our product, because everyone knows Ric Flair. He's also been great for the wrestlers – he always gives them tips and observations on their matches, and the wrestlers tend to gravitate towards him. Learning wrestling from Ric Flair is learning from the best in the world. The guy has a Ph. D. in professional wrestling. If he talks, you're definitely going to listen if you care about your profession at all.
GHABB,Y:
You also made an appearance in "The Wrestler." How was your experience working on that movie?
Bobby Cruise:
That experience was great. I'd never even seen a movie set, and here I was as the main event ring announcer for what would later become an Oscar-nominated movie. Mickey Rourke was especially impressive – he'd change in the locker room with our wrestlers and acted like one of the guys. Darren Aronofsky, the director of "The Wrestlers" was also great, he would always give helpful hints and meet with us about our roles.
GHABB,Y:
Do the wrestlers tend to treat you with respect as a ring announcer, or do they give you a fair amount of ribbing?
Bobby Cruise:
The guys actually treat me extremely well, because they know I've been in the business for 15 years and have worked hard to get where I am. One night I wasn't able to make a show in the Midwest, and one of the wrestlers made a point to call me and tell me that the guys missed having me around that night, and that the show wasn't as good because I wasn't announcing it. That really meant a lot, and I saved the voicemail. It's weird - the guys who have every reason to have huge egos generally don't, and the guys who have no business having giant egos often do.
GHABB,Y:
Who is your major influence among ring announcers?
Bobby Cruise:
That definitely has to be Howard Finkel. I watched him growing up on Saturday mornings on Channel 56, and he is without a doubt the greatest ring announcer in history. As a ring announcer, if you go unnoticed, you've done your job. Finkel has always been the consummate pro when it comes to that, and I've really tried to mimic his professionalism and how he handles himself. When he got into the Hall of Fame this year, I sent him an email telling him that he's been a real role model for me and for other ring announcers, and he emailed back thanking me.
GHABB,Y:
You started your Ring of Honor career involved in storylines with Steve Corino, and you also had a few in-ring incidents during your years with Yankee Pro. Any more desire to get involved in the storylines?
Bobby Cruise:
Man, I hope not. I have fun playing the straight man. Two years ago they put me in a storyline, and I got knocked out cold by the Necro Butcher. He told me before the show that he was going to kick me in the stomach as I introduced him, but he must've forgot, and punched me hard in the ear instead. I went down in a heap, and my head was still ringing the next day. He later apologized, not for punching me, but for forgetting to kick me in the stomach! The wrestlers in the back complimented me for selling his punch so well, but I responded "selling? I was knocked out!"
GHABB,Y:
You're generally recognized as the best-dressed of the Ring of Honor guys. Do you wear a different suit for every event? Who's the best dressed guy outside of the ring?
Bobby Cruise:
I have a few suits that I generally wear to the events, but I've got a rotation of tons of slick-looking shirts and ties that I try to always keep fresh. When we do TV tapings, I often change three or four times during the show, trying to maintain that "well dressed" image. Outside of the ring, I'd say Claudio Castagnoli is the best-dressed. He has that European fashion sense. After him, probably the Necro Butcher. That "barefoot with jean shorts and cutoff shirt" look is just sooo fashionable.
GHABB,Y:
I always see ROH owner Cary Silkin walking around in the most awful white linen dinner jackets. Have you ever tried to help a brother out?
Bobby Cruise:
Haha, Cary actually has come to me a few times when he needs help picking out his wardrobe. You can always tell when I've picked out a shirt and tie for him, because he actually looks good in it. I have no idea where he gets those white jackets though.
GHABB,Y:
You recently underwent a booking change, with Adam Pearce taking over scriptwriting duties from Gabe Sapolsky. How have things been different since Gabe left?
Bobby Cruise:
There have been some good things and bad things. People have to remember that Adam has only been on the job for six or so months now, so he's still getting his feet wet. His job is also different in that he has to now book TV shows that sometimes air six months after, Pay-per-views that air two months after, and still keep the weekly house shows current. I wouldn't want his job at all. There has also been some adjustment to the in-ring product – you won't see as much flipping or high spots early in the show, as Adam tends to want to build towards the high spots later in the show. The shows are also shorter now, as the old 4 or 4 ½ hour shows have thankfully been reduced to 2 ½ or 3 hours. That said, Gabe was an amazing booker, and did some great things. His "Summer of Punk" angle when CM Punk was our champion was the best booking I've ever seen – never before have I seen a wrestler and booker be so much in sync.
GHABB,Y:
You sit ringside at every match. What's the most vile substance spilled on your finely tailored suit?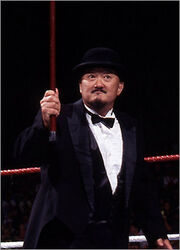 Bobby Cruise:
I try to duck out of the way of most flying liquids and substances. Once, a Japanese wrestler threw some sort of protein powder at one of our guys, a la Mr. Fuji back in the day, and it got all over me and turned my black suit white. That stuff is hell to get out of a suit.
GHABB,Y:
What's the most inventive chant you've ever heard?
Bobby Cruise:
I think my favorite is the "You're gonna get your fucking head kicked in" (followed by 10 claps) chant that fans yell at Bryan Danielson's opponents. It's a really long chant however, and very hard to get in sync. That chant started in Chicago, but now we tend to hear it at every show. It's just brilliant.
GHABB,Y:
ROH guys have become infamous for some of their karaoke performances. Who's the best karaoke singer on the roster, and what is your go-to karaoke song?
Bobby Cruise:
Jimmy Jacobs is hysterical at karoke – he gets up and sings love ballads to women in the audience. I'd say my go-to song is "Jesse's Girl." That's my old reliable, and it always brings the house down.
Ring of Honor appears tonight at BU's Case Gym. Tickets can be found at ROHwrestling.com, or at the door. Us awesome people will be there, so you should too.