Hello, I am Coach Skinner, and I would like to invite you to
send your kids to my Summer Basketball Camp
. Here at my camp, I will teach your kids the fundamentals of basketball through my patented technique of scaring the ever living snot out of them. The results speak for themselves, just ask some of my satisfied customers!
"
After I went to Coach Skinner's camp, I hid in my closet for weeks. His ugly face and weird mouth were in my nightmares for weeks. He looks like an ogre from Harry Potter. My mommy put me in the hospital because I woke up screaming every morning, and cried myself to sleep. Now I take medicines for that.
"
-Steve L (Age 9)
"
Can't sleep, Skinner will eat me
"
-Alicia K (Age 8)
"
Last week, my team played Newton North, and late in the fourth quarter I was called for traveling. From what my friends told me, I fell to the floor and curled up in a ball. All I remember is flashing back to camp, and a speech that Coach Skinner gave. He told me that if he ever caught me travelling again, he would make my life hell. Mission Accomplished.
-Jamal (Age 11)
The best part of my camps are the guest speakers, lets talk to some of our special guests.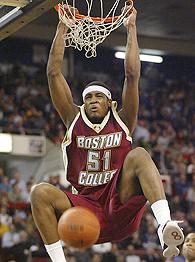 Yo, I am Sean Williams of the New Jersey Nets. My speech I gave da kids was entitled "Doing just enough to stay out of jail." My lessons that I drove home to da kids was dat it was impotent to do whatever the hell you want, be aware of when drug testing is so you can avoid dat shit, and remember do whatever you want because its you dunking the ball and blocking shots, not the coach. As a way to further get my message home, I invitationalized some kids to come to my apartment to roll up in some of dat sticky icky. Because hey, its never too early to start!
Hey you know me man, its' Jermaine Watson, THE 6th man of the BC Eagles. Al Skinner found me playing ball in Turkey, and asked me to speak to the kids. I told them, that even though BC is a great learning school place, if you play ball you ain't gotta do shit. Hell when I was there I had the kid down the hall write my papers, I got in fights with the RA, and faked a robbery on my apartment. You know why I did that? Because I am a mutha-fuckin-basketball player, you dig that? See real important life lesson for the kids..
Hi guys! This is Bill Curley, true I never played for Coach Skinner, but I have nothing else to do now. I never had an NBA career, the European teams didnt want me, and I have no life skills because I spent my entire college career chasing skirt at the Heights. I really have no life lessons to give, because well, I live off of public assistance. But hey, did you know I was on the team that beat UNC. Don't you remember? Please?? It's all I have left!