As denizens of the
Pick One Challenge column
on NBA.com may have read (and really, all of you should be, the column's writer is my favorite person ever), I spent my weekend in the backwoods suburbs of Chattanooga, Tennessee, visiting my parents who inexplicably moved there earlier this year. When they tried to rationalize this decision with arguments like "your father got offered the job of a lifetime" or "we can buy a house three times the size of ours for half the price" or "Your attachment disorder to us is slightly creepy, and being a thousand miles away will lessen the amount of times that you ask us for money," I would respond with the same line: "But it's Tennessee." That was all I really needed to retort with to win the argument. And whaddya know, eleven months later, they're pining for home, even the less-desirable parts of home like Malden and Saugus and sections of Gloucester.
For, you see, it isn't so much the weather (which is quite nice), or the cost of living (much lower, and with no state income tax) or the city of Chattanooga itself (downright charming actually, like Portsmouth with more stuff to do). No, what has turned them off in eleven months of Southern Living is the people, the same type of people that I warned them about after having served my own four years of hard time below the Mason-Dixon.
Don't get me wrong – on the surface, Southerners are quite palatable. Walk into any store in the South, and the staff will start chatting you up like you're a long-lost friend, and they take the concept of "customer service" to a ridiculous level. Southern women, from my many, many observations, tend to be much more attractive and in better shape than their Northern counterparts. Even the driving is much more stress-free and placid in the South, as the locals tend to drive with a politeness unseen up here.
But under that surface layer of hospitality lies a deep, deep reservoir of crazy that rears its ugly head when you'd least expect it. Try to ask the average dyed-in-the-wool Southerner about gay marriage or second amendment rights. Let Southern Joe Six Pack tell you his thoughts on abortion or immigration. And if you really feel like a good time, tell the average Southerner that you're Jewish or Muslim, and then start running from people with ropes and nooses. Now, I realize that not all Southerners are like this, but the fact is that enough of them are to make the South, and especially rural Tennessee, a horribly frightening place.
This craziness especially rears its ugly head when it comes to sports, most especially college football. Ask an Auburn fan about Alabama. Quiz a Tennessee supporter on Florida Gator history. Hell, ask an LSU fan about anyone else in the conference, provided you have a translator present. People up here talk about "rivalries" like Red Sox-Yankees or Patriots-Jets, but just let them spend a week in Alabama during Iron Bowl week, and their perspective on true inter-team hatred will be shaken to its core.
My few days in Tennessee gave me a brief snapshot of this insanity. Now, as some of you may know, Tennessee coach Phil Fulmer was forced out of his job following this season, despite posting a 152-52 career record, one national championship, and a combined 34 years of service to the university. The guy was in the SEC Championship just last year for Chrissakes. Didn't matter. One 5-7 season and Fulmer was sent packing by an army of enraged UT fans, the same fans, mind you, that waxed poetic about Fulmer's tenure after his last game Saturday. I read no less than four sappy odes to Fulmer and his glorious career in this Sunday's Chattanooga newspaper, the same paper and fanbase that had been calling for Fulmer's outright lynching earlier in the season. Now, as someone who can't stand UT, this brings me oodles of joy, as will it when supposed wunderkind Lane Kiffin falls flat on his face and screws up the program beyond recognition.
But there's a moral to this story: people in the South are fucking CRAZY, especially when it comes to their football teams - and yes, I'll include myself and my fellow Gator fans in this generalization. My blood pressure rises at least 30 points and I start speaking in invective-laden tongues at the mere mention of a certain coach whose last name starts with "Z" and ends with "ook." One bad season, and the nostalgia-blinded fanbase become vultures, calling for the coach's job in favor of the Next Big Thing, who inevitably disappoints. I would argue that being an SEC coach is the most stressful and thankless job in America, ahead of even President or CEO of a large company. Win at all costs, and cheat if you have to. Live up to the legend of =Spurrier/Neyland/Bear/Frank Broyles/insert old legendary coach here. Give an entire state full of retarded people something to live for. It's a shock that anyone takes these jobs, let alone some of the more talented football coaches in the country. Avoid the South people. Avoid it at all costs.
Rant completed, on to the picks:
Hooters Real Fucking Deal Award
– I'm a big fan of style points in college football. In the words of Eazy E, I love teams that "smoke motherfuckers like it ain't no thang." Which is why, of all the three Big 12 South teams that were eligible for their conference championship, I'm completely okay with
Oklahoma
being the choice. OU absolutely obliterated rival Oklahoma State on Saturday, 61-41, their fifth straight game scoring at least 58 points. That is what John Holmes would have called "finishing strong." Texas Tech, while I love their offense and pirate-obsessed coach, is ruled out due to their 44-point loss to OU, and Texas, while a good team and one that beat the Sooners, lost to Texas Tech and barely beat Oklahoma State, while averaging 10 less points per game than the Sooners. While the system is extremely flawed, and we wouldn't even be having this conversation if there was a goddamned playoff, among all the Big 12 South teams, I'd call the Sooners the Realest Fucking Deal, and most Hooterific.
Weylu's Epic Fail Award
–
Georgia
was the preseason No. 1 team in the country. They have Matthew Stafford, a projected No. 1 NFL draft pick, and Knowshon Moreno, one of the most athletic running backs I've ever seen. Their defense was, by all measures, talent-laden and ready to fuck shit up. Yet Georgia somehow lost to Georgia Tech, they of the "allergic to the forward pass" offense, and ended their season as the second-best team in their own goddamned state. That, friends, is an Epic Fail of the most Epicest Failful proportions.
Honorable mention goes to fellow SEC members Vanderbilt (got smoked by Wake Forest), LSU (lost to Arkansas), and South Carolina (raped by Clemson). Thanks for representing the conference so well guys. Seriously, great job assholes. Ugh.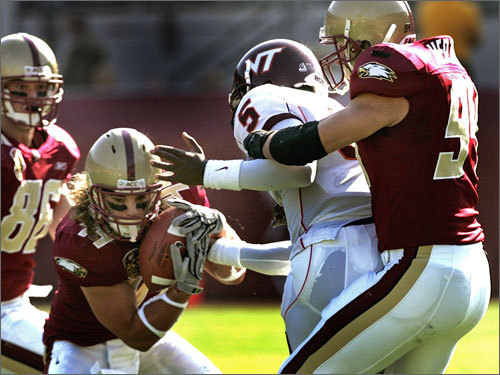 Kowloon's Good Ol' Fashioned Fun Award
– Despite my hatred of puppies, babies and rainbows, my miserly soul still has been known to give credit where credit is due. And after a year of bashing their conference, their fans and the fact that half their student body is somehow from New Jersey, I must give said credit to the
Boston College Eagles
, object of HZMLS' affection and potential Orange Bowl participant. The undermanned Eagles beat a game Maryland squad this Saturday, 28-21, armed with only brawn, trick plays and a defense that plays out of its collective fucking mind. Mark Herzlich is Lattimer from The Program, minus the rape (that we know of). B.J. Raji is college football's Vince Wilfork. Billy Flutie is an inspiration to us all, overcoming autism to throw touchdowns in important college football games. Wait, Billy is Doug's nephew, and not his kid? Well then fuck that nepotistic shit then. Still, BC's win over Maryland was great for any Boston sports fan, and I wish them nothing but luck in their efforts to commit videotaped murder of Virginia Tech students this weekend.
Cabaret Lap Dance "Actually Pretty Boring When it Comes Down to It" Award
– This award goes to
every game played on the Eastern half of the country this weekend
, both in college and in the NFL. While the storm wasn't technically given a witty hurricane name, you couldn't help but notice that every football game played in the Eastern time zone this weekend was played in a giant fucking monsoon, making each game look like annual Mud Bowl tournament held in North Conway, New Hampshire (most fun sports-related event ever by the way, especially when you're shithouse drunk). If you can't tell, my favorite brand of football is the kind with lots of passing, speed and scoring, all of which are greatly hampered by driving rain, mud and gale-force winds. Your grandpa might like grind-it-out football while battling the elements, but this is 2008, and I was raised on an MTV attention span. Also, it fucking SNOWED in Chattanooga as I was flying out on Monday, and I am absolutely not down with that shit.
Closing of Russo's Candy House Disappointment of the Week
– Going into Saturday, I was rooting extremely hard for
Oregon State
. Their nickname is a euphemism for a vagina, they featured a running back who topped out at maybe 5'3" and, with a win, they would have prevented USC from winning the Pac-10, which would have been all sorts of Schadenfreudalicious.
But Oregon decided to run a train through the Beavers to the tune of 65-38. The Beavers were sloppy, allowing 693 yards, and their defense was nowhere near as tight as you'd expect the Beavers to be in a game that I at least expected to be a Beaver close shave victory. Oregon however had different plans, penetrating the Beavers from all angles, and generally plowing through them with little attention or care to the Beavers' delicacy or sensitive nerve endings. Penis penis, vagina penis vagina vagina penis.
Vagina.
Frank Giuffrida Exalted Human Being of the Week
– While not often discussed, the Ball State Cardinals have compiled a 12-0 record this season and can make it 13-0 with a win over Buffalo on Saturday. And unlike USC fans, who have bitched and whined about not being in the title picture despite having one loss and barely winning their conference, Ball State has just adopted a "happy to be undefeated" stance through the season, which is admirable and refreshing. For their pluck, I happily award the Frank Giuffrida award to
Ball State running back MiQuale Lewis
, who ran for 120 yards and three touchdowns against Western Michigan on Tuesday night. Lewis has over 1500 yards and 20 touchdowns this season, a feat worthy of the Hilltop Bone In Sirloin Steak, clocking in at 18 ounces and cut thick and juicy, a fine complement to an admirable season.