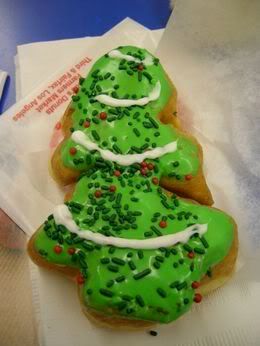 It's festive, AND it's donut-flavored. What's not to love?
LOOKIT!
Naturally, I'm partial to this goal because it came from Rydes (this is a classic Ryder goal, by the way: he's always one to slow down and gauge his shots carefully rather than just firing it off the tape). However, what's really noteworthy about it is that the assist came from (defensemen) Shane Hnidy and Matt Hunwick, who neatly recovered the puck to set up the score after David Krejci brought it down the ice but couldn't finish. This perfectly exemplifies why the Bruins are far and away the best 5-on-5 team in the league right now (even mighty San Jose has one fewer even-strength goal than us). We're playing as a cohesive 5-man unit; every player on the team is making his presence felt on both ends of the ice. Our transitional game is just untouchable.
Bruins won, 5-3, despite a serious drop in game energy following an explosively dominant 1st-period performance. "Once we got a comfortable lead we decided to get cute," admitted Claude Julien following the game. Captain Chara expressed similar frustration with the team's play later in the game, saying, "We all know that we have to play for 60 minutes the way we can. We won and it is nice to get two points, but we have to make sure we don't make the same mistakes in the upcoming games." Amen, brother. Almost blowing a 3-0 lead to the freaking Lightning is NOT how you win Stanley Cups. Still, a win is a win, and we're now 19-4-4. WOO!
Also, PJ Axelsson finally, FINALLY scored his first goal of the season last night, sending home an empty-netter with just 10 seconds left in the game off the assist from Patrice Bergeron. Ups to Jack and Brick for giving credit where credit is certainly due last night, and noting that Axelsson's lackluster stats are in no way reflective of his considerable value on the ice. Kess had a (very lucky) goal and an assist to extend his point streak to 12 games, and Krejci assisted on Chara's game-winning slap shot to extend his point streak to 8 games.
Oh, and, um, it's Breakfast or something. Today's question is HOW FREAKING AWESOME ARE THE BRUINS AM I RIGHT DOOD?!
PS. Anyone who took the odds on "B's Beat Bolts" as today's
BostonBruins.com
headline in
last night's Frivolous Wager
: I owe you money.