Oh hey guys, what's going on on this blog?
Life being what it is, I haven't had much time to write lately, what with work being insanely busy, my band trying to get it together for a new album, a
new baby
to get off the ground, and, like, lots and lots of sports to watch and beers to drink. Thankfully, my excellent co-Hysterians have been doing a stellar job keeping you all abreast (heh... breast) of the monster run at the Series the Sox are currently making. I don't have much to add to all the coverage from today, really, except that oh yeah I was at the game last night and got to party with the Red Sox afterwards. All I'll say is that Theo Epstein is incredibly nice, sweet, and smiley in person, Big Papi makes good but reeeeeally strong drinks, and my Jed Lowrie T-shirt made me the coolest kid on the block last night. Wheeeee!
So yeah, I'm pretty jazzed about the post-season. Duh. But let's not forget that THE BRUINS SEASON STARTS THIS THURSDAY WOOOOOOO! Now, we all know that the Bruins are kind of languishing in "unloved stepchild" status compared to the other Boston sports, especially after the Celtics came roaring back to relevance in a blaze of glory this past season. Hell, you might not even give a shit about the Bruins. But that's why I'm here, sweetie. I'm here to bring you into the season with a few posts whose magical deliciousness will have you as excited for hockey season as a kid on Christmas morning. In one of my
favorite pieces
I've written (at the start of the playoffs series with Montreal last year), I noted that "the true spirit of a Boston fan is that of an underdog, and the Bruins are as underdog as it gets." I still say that's true. Jump on board the Bruins Bus this season. I promise it'll be awesome.
Behold! Part 1 of Why You Should Be Super Duper Stoked That Bruins Season Is On The Way: The Kids. One of the most titillating aspect of the Aught Eight Bruins is the young and fearsomely talented offensive corps that the front office has quietly been assembling over the last couple of years. Yowza! Let's take a look-see.
Patrice Bergeron.
This tasty Quebecois cookie will finally be returning to the Bruins lineup after a long season of recovery following a concussion sustained just a few games into the season last year. Still just 23, Bergie's speed, agility, and brilliant control of the line -- note that he notched a goal and 3 assists in the first pre-season game against Montreal -- will all be huge factors for the Bruins this season. BERGIE'S BACK BABY WOOOOOO!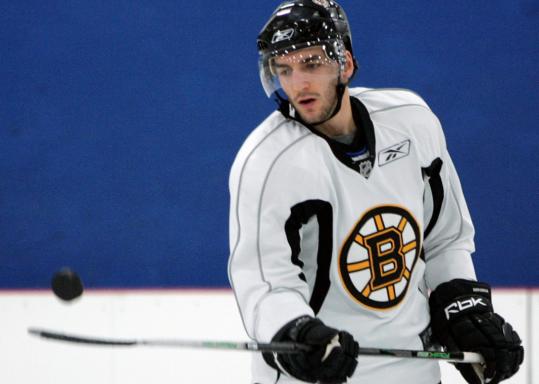 David Krejci.
A former second-round pick, Krejci's yet to live up to his full potential -- he's still only got 62 games under his belt. Krejci stepped it up admirably last season when called upon to fill in for Marc Savard, and wound up being a key offensive player in the playoffs series with Montreal. Last year, he brought his game in Providence up to over a point per game -- his stint in the AHL was due to a perceived lack of confidence on the ice when playing with Boston. This is the second season that Krejci will be on the roster out of training camp, and I say he's due for a yooge year. Just this weekend he scored two goals in a pre-season game against the Caps.
Milan Lucic.
Oh, there are SO many reasons to love Milan Lucic. Here's one:
Yes, that clip's from last October, when Lucic -- just a few games into his NHL career -- racked up a Gordie Howe hat trick against the LA Kings. Don't get me wrong. I love Bergie's fast hands and lightning play. But god help me if I don't love Lucic bringing his beastly physical game to the ice every night. Say it with me now: LOOOO-CHEEEEECH!
Petteri Nokelainen.
Acquired from the Islanders before the start of last season, the 22-year-old Nokelainen will be another valuable presence on the Bruins' offense this year. He played in 57 games last year and scored 10 points (7 goals, 3 assists), but where his real skill lies is in the nitty-gritty of the game: working the corners, supporting on defense, and keeping plays alive.
Vladimir Sobotka.
Don't let the flawless cheekbones and big blue eyes fool you: as pretty as the 5'10" Sobotka is, he's an aggressive physical player. A natural center, Sobotka has an incredibly high hockey IQ and runs plays exceptionally well. Like Krejci, Sobotka came up huge during our brief and tumultuous affair with the post-season, scoring the final goal in Boston's memorable
5-1 whomping
of the Habs at the Bell Centre as well as one of the goals in the breathtakingly awesome and already-legendary Game 6. Oh, and did I mention he's raaaather easy on the eyes? Yeah.
Blake Wheeler.
YAY YAY OMG!! I've been flipping out over signing this hunky Minnesotan for months now -- he's just a monster on offense, and his incredible speed will be a fearsome factor for opponents to contend with once he adjusts his game to NHL ice.
Here's what I wrote about him
when the Bruins first signed him: "AWESOME. FUCKING AWESOME." True dat! Wheeler's been relatively quiet on offense through 3 preseason games so far, but he's likely to be a key playmaker on the 3rd line (with Lucic and Stephane Yelle).
The kids: they're more than alright, nah mean? This is a serious cadre of sexy-as-hell young talent that'll only get better as the season goes on. Meanwhile, we've still got oh-so-yummy options like Providence Bruins captain Nate Thompson and new acquisition Jeff LoVecchio waiting in the wings should we decide to call them up.
Ooh getcha crayon box and color me excited! Part 2 tomorrow, m'dears. HOCKEY BABY WOOOO!!!