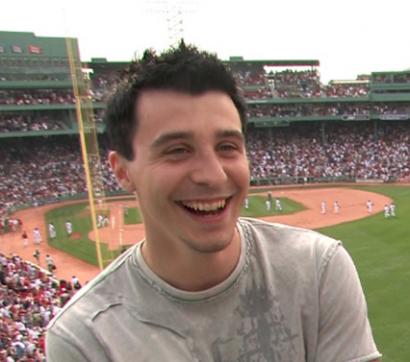 Yo! Hey-ya guys, my name is Richie and I was given this fawkin awesome oppatoonity to come to Mass Hysteria to tawk about the Pats and Chah-gahs game on Sunday night. What? You don't think I'm a celebrity? What are you fockin retahded? Listen pal I am big time because I was on Sox Appeal and got the chance to try to bang that broad with blond hair with the pink Ellsbury jersey, what the hell was hair name? Jen, Jane, Jamie? Who the fawk remembahs, some stupid skank. Anyways I lost that on the show, she took home that douchebag lawyah who talked to her about her feelings and gay shit like that. Man fawk dat, I wanted to talk about going to Motel 6 and you know getting to know one-an-udder. Hey, at least I got four free beers out of it, so in dat sense I won. But anyways lets look at dis game, and our chances against that fawkin fag LT and his homo boyfriend Philip Rivers who is noweah as good as my boy Matty Cassell.
First off, lets look at the Patriots offense, which has been very inconsssistent since the injuree to Tom Brady. Last week my boy Randy Moss finally showed up and had like 15 catches for like a fawkin ton of yahds, , which is good because I called up WEEI last week and told the Big O that Moss was a bum and needed to be traded or cut. I also think that Laurence Mahroney is gahbage, and that we need to run da ball more with Sammy Morris or Lamont Jordan.
As a side note I drafted the entire Patriots offense on my fantasy team, and I GUARANTEE THAT Sammy Morris will have a better week that LT. Mahk that in your books.
It is just a mattah of time before da Pats score 50 points again so I'm going to say that Matt Cassell throws for like 6 TD's, Moss catches 10 passes for 200 yahds and Sammy Morris runs for 150. Dood, don't ahgue with me, I'm a fawkin genius. Would you ah-gue with a guy who was on NATIONAL TELEVISHIN'?
The defense has been fan-omenal (
Look I suck at spelling ok?
) and has been the true powah of this footbawl team. I mean Jesis Christ did you see that intacepcion from Meriweddah last week? It was fawkin' sick! He-yah is what I'ma going to bet you doodes about the Pats game. I will bet ya 5 shawts of Jager-meistah that LT does not get 100 yahds. Look, he's a cry baby, why the fawk did he not play in the AFC Championship game last ye-ah? Brewski is a fawkin' beast, and is going to be all over that Cha-gahs line. Philip Rivers sucks, ok? Thats all there is to it? I see like 4 intacepcions in his fut-chah. Holy fawkin' shit, I need to stop drinkin' be-ahs while postin'.
So in concloosion, da New England Patriots are going to beat the shit out of the Chahgahs. They have no chance, just like you when I dance up on your chick. My predication for this game is da Patriots are going to win 52-3. If anyone sees that douchebag wearing a green and white collah-ed Abercrombie & Fitch shirt that got on Sox Appeal and beat me to that broad please let me know, I've got a five fing-ah sandwich with his fawkin name on it!
GO PATS!
GO SAWX!!!!!