Here in Massachusetts we have had our fair share of infamous criminals. From the witches of Salem to Nelson Rockefeller, our streets have had their share of crooks, scam artists, and cheaters. In honor of the New England Patriots, we at MH would like to incorporate these crooks into our game recap of last Sundays game. Enjoy your mini-history lesson!
The Sacco and Vanzetti Award
:
The two most famous Guineas in Massachusetts history, they were torched on the electric chair for a murder they probably didn't commit. Back in the day, us Bostonian's didn't take kindly to their type and killed them mainly for having crazy mustaches and a love of cannolis. This award goes to the player who has made mistakes in the past, but should be exonerated after this past weekend.
This week the S+C award goes to Deltha O'Neal, a player I had given up for dead weeks ago after watching him get torched by Philip Rivers all game. He looked washed up and was struggling covering receivers bigger then him. Guess all it took was a game against Marc Bulger to change all that. Even with an injury that had Deltha on the sideline to start the game, he made the big play to seal the game. So maybe it is time to get him off of death row and back into the good graces of Patriots Nation. Though when Reggie Wayne scorches him for 12 catches and 150 yards, I'll personally strap him in myself.

The Ted Kennedy Award
:
This award goes to a player who should just throw himself off a bridge. Their play was so bad, it was like a Senator drove his car over a bridge with a passenger, while drunk. If improvement is not seen in this player soon,a trip off the Chappaquiddick might be the solution.
The winner of this weeks award is Billy Yates
. Billy you have two jobs, block so that our running backs can run the ball and keep Matt Cassel from getting killed. Yesterday you failed to do both. I know you are a backup, not used to playing with the big boys, but man this is your chance. Basically right now you are a 300 pound blocking dummy that any NFL lineman with two hands and a pulse can get around. If you can't block against defenses like Denver and St. Louis, well it might be time to drive your NFL career off a bridge.
The Louise Woodward Award
.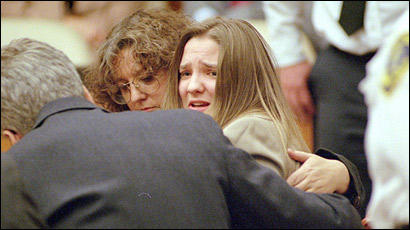 For those of you who don't know Woodward was a young British nanny who shook an infant to death. Evidently its a bad thing to take a 20 pound helpless baby, and shake it so hard that its brain swells to the point all vital organs fail. She received very little jail time for killing the baby. This award goes to a player who showed the tenacity to destroy a far inferior opponent.
The winner of the Louise Woodward award goes to Adalius Thomas
. Thomas has had quite the impressive past two weeks. With 10.5 tackles and 3 sacks he has become the destructive defensive force everyone has hoped he would be. Marc Bulger needed a diaper in the second half to prevent the shit storm that was flying his way.
The Boston Strangler
was a person or persons who iced 10 people in Boston during two different phases of the 1960's. Though Alberto DeSalvo confessed to the killings most historians doubt the validity of his confessions, probably because he was bonkers. DeSalvo went to the grave(after getting stuck by an inmate in prison)confessing to the murders, but the real killer(s) are probably still out there yet no one can find them. This award goes to the player who completely disappeared during the game.
The Boston Strangler Award Goes to: Benjamin Watson
. Ok, maybe I am just being harsh on him because he was my starting TE and I expected him to at least contribute to my fantasy team. 7 points for the year later, and he rots on my bench. When the Patriots drafted him out of Georgia the talk was all about his receiving skills, how he would be a great target for Brady and be a threat against even the most potent D's. Season after season of injuries later, and Watson appears completely irrelevant on the field (when he is actually playing). With a QB who is hesitant to go deep, Watson should be one of his primary targets. Yet games go by with Watson hauling in one catch and half the time I forget he is even on the field. I think its time the Pats look for a Tight End who can catch the ball and stay on the field. Draft maybe?
The Whitey Bulger Award
.
Most infamous of all Boston criminals, Bulger WAS organized crime in Massachusetts for the past 30 years. He was feared and respected by all, and no one has a clue where he is right now. Is he in Italy, Canada or buried in your back yard? No one knows. This award goes to the MVP of the game.

The first Whitey Bulger Award Recipient is Kevin Faulk.
When he isn't getting suspended for smoking weed at a Lil Wayne concert, Faulk is the epitomy of a team player. Whether its returning punts, blocking on passing downs or running his patented short screen routes Faulk does everything. Yesterday was a prime example of how valuable he is to the Patriots. With 115 all purpose yards, Faulk made the play of the game with a one handed touchdown catch to put the Pats up for good.
The Bill Belichick Game Recap
Our favorite criminal, he has given the rest of football fans a reason to hate us. Because Bill seems to analyze games well before a game, during the game, and by watching illegal tapes. This is our chance to look back at the game, look forward to next week and learn from mistakes.
This game was loaded with the good and the bad. Matt Cassel started the game looking confident and making good reads on the field, but looked lost when he threw 2 picks in the second half (true one was Welker's fault for falling down). The defense really picked it up in the 2nd quarter after getting torched on a series of big plays by Donnie Avery and Antonio Pittman. In the second half Thomas, Seymour and Ty Warren caused mayhem on Marc Bulger and limited the Rams to FG's. Next weekend the Pats are heading to Indy for a Sunday night matchup with the Colts. Neither team is anywhere near as dominant as they have been in the past, and this game could really be a statement game on where the Pats and Colts stand this season.
/
You are not getting a BC recap from me, Saturday's game against UNC made me violently ill
.