Hello Hysterics back in April I began a series of posts entitled "The Best of Times it was the Blurst of Times (TBOTTBOT) recapping the Patriots seasons from 1990 on. Well some time in June I got distracted by an inordinate amount of other posts, playing Scrabulous on Facebook and internet porn. But after some gentle urging from the other editors at MH (Shitshow threatned to break my kneecaps), I am pleased to reintroduce the revamped and reawesome-ifyed HISTORY OF THE NEW ENGLAND PATRIOTS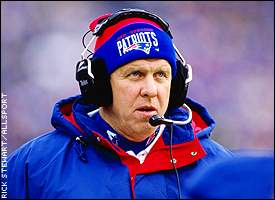 The Draft Class
: With Bill Parcells calling the shots, the long list of shitty draft picks finally stopped. No more Eugene Chungs, Hart Lee Dykes and Jerome Henderson, no this year was different. We would take a pass on all Asian American lineman. An infusion of "good" football players were on the way. Players that wouldn't be complete busts, suck or get injured in a fight with a teammate. Ty Law was the prize of this years draft. A fantastic CB (who loved himself some ecstasy), Law finally gave the Pats a shut down CB. This was a logical pick for the Pats because they had lost Rod Smith in the supplemental draft to the newly founded Carolina Panthers. Also picked up in the draft were Dave Wohlbaugh, Curtis Martin, Jimmy Hitchcock, Ted Johnson and Dino Philyaw (who has possibly the best name in Patriots history, and for some reason I thought was going to rock but never made it in the NFL). I hate to fucking say it because I loathe the Tuna, but he was setting up the Patriots dynasty of the future.
The new kicker
: After the draft the Patriots went out and tried out a new kicker to replace the very old Matt Bahr. Because only retards and Al Davis waste good draft picks on kickers, the Patriots smartly waited until after the draft to sign one Adam Vinatieri. Born in Yankston SD, Clutchy McKickerClutch came over from South Dakota State which interestingly enough was using a cow to kick field goals before he was accepted into the school. Vinatieri was not giving the starting job right off the bat, instead playing back up to Matt Bahr for the season. I don't care if he eventually won a Super Bowl with the Colts, I can never hate Adam. He was the fucking man when he was here, he hardly ever missed a big time FG, and the Snow Bowl still gives me a stiffy.
WHAT??? WE ACTUALLY HAVE A RUNNING GAME???:
The Patriots also decided in the draft that had seen enough of washed up Chargers RB Marion Butts who was busy the year before fumbling the football every time he touched it. They tested the draft waters and got a young RB from Pittsburgh who was not named after your anus. Curtis Martin was what solidfied my love of the Patriots and the NFL, he was young, fast and fucking exciting to watch. In his rookie campaign he ran for 1500 yards and 14 touchdowns, combine that with Drew Bledsoe's laser rocket arm, and well the Patriots were set, at least in theory. When he left for the Jets in 1998 part of me died possibly my left arm or my pancreas. I wondered to myself do I continue to root for the player I thought was the tits, or stay with my home town team. All Hail Buddha I stuck with the Pats.
No more playoffs for you
Well, like in years past when the Patriots take a step forward you can always count on taking a step back the next year. This was
that
next year. After getting bounced by Darth Bill (you know the one who
cheats
) in the previous season the Pats failed to make the playoffs, or have a defense or a winning record. Flopping with a 6-10 record the Pats had the 28th ranked defense and had the honor of getting their ass handed to them by Jim Everett and the Saints, Jim Harbaugh and the Colts, and the expansion Carolina Panthers. If you lose to an expansion team, your season should be considered a gigantic disaster, its like losing to a Even with Bledsoe (who threw more picks than interceptions)the Pats offense was weak, and only averaged 18 points a game. Another fucking depressing year for the Pats, but there was a glimmer of hope. They were being better run, they had a good QB/WR/TE and were drafting smart. Even with a crappy season the horizon looked bright for the Pats.
Song of the Year- Gangsta's Paradise Coolio
Every so often a rap song comes along that even a white person can enjoy. Its usually a safe, non threatening rap like Gangsta's Paradise. I think was my first attempt at enjoying hip hop, which at first I had written off as a complete joke. Off the soundtrack of Dangerous Minds, where a white woman teaches a whole bunch of black and hispanics, Gangsta's Paradise was THE song of 1995. Everytime I turned on MTV I saw that bald sweating fat man singing the hook "BEEN SPENDING MOST OF OUR LIVES LIVIN IN A GANGSTAAAAS PARADISE". I thought I was so cool back then because I could rap along with it. How stupid I was, the song sucked, and he sucked, and after one more hit faded into obscurity where he belonged.
Top Grossing Movie of 1995
-
Toy Story
. I have no real opinion on this movie so lets go to the #2 movie of the Year "Batman Forever". This is like the AIDS of the Batman series, it took a good character and just proceeded to make it suck more and more for the next five years. Take one Joel Schumaker and let him make sweet passionate butt sex with your favorite superhero. FUCK. Jim Carrey wasn't terrible, but he annoys the shit out of me and Val Kilmer should have concentrated more on making crappy sci fi movies like Red Planet. I love comic book movies, but this one made me violently ill, like seriously how can you take a tragic character like Harvey Dent and make him into a fucking joke? Well Joel Schumaker figured it out. If you really think Batman Forever was a good movie you deserved to be punched in the dick.
This year in the life of Hazel Maes Landingstrip
: You know that time of your life when you realize what sex is all about, but you are too awkward to actually get any? This was THE year where I hit that moment like an out of control car hitting a tree. I had just started High School where I fit in like a black kid at a Ku Klux Klan meeting. I was short, scrawny and terribly shy the perfect trifecta for shielding girls as far away from me as possible. Girls were a prize that was WAY out of my reach, I sat in the back of class wishing I could actually touch a girl but deep in my heart realizing this was never going to happen. This was also the year that I decided that I would not be the next Roger Clemens. My wicked 45 mph fastball, 8.5 40 yard dash, and 2 hits in an entire season forced me out of High School Baseball. Other than an atrocious Golf Team tryout my senior year, this would be the end of my "athletic" career.