It's almost here. October. Time for some do-or-die baseball. And I could not be more excited.
Today is the 2nd part of my preview of the upcoming Red Sox/Angels series. If you missed
Part 1
, well, you're fuckin' up. I ran down all 9 offensive starters for both teams, now to touch on the benches, the pitching, and the coaching staffs.
BENCH


Kevin Cash, Sean Casey, Alex Cora, Jeff Bailey, Coco Crisp and Mark Kotsay vs. Mike Napoli, Robb Quinlan, Brandon Wood, Kendry Morales, Gary Matthews, Jr. and Reggie Willits
With the injuries to Lowell and Drew, the Sox bench becomes very very important. I think you'll see all of these guys playing bigger roles than the normal post-season bench. For the Angels, Napoli is a strong backup catcher, Willits provides pinch-running ability as well as tremendous plate discipline, and Gary Matthews, Jr. provides steroids to anyone who needs them.
Edge: EVEN
STARTERS - GAME 1


Jon Lester vs. John Lackey
I'm not going to lie - this matchup makes me the most nervous. I would have much rather seen Lester pitch at home (where is is 11-1 this season), but with the injury to Beckett, the Sox don't have much choice. Lester has struggled on the road to be sure - his BAA is 35 points higher wearing the gray uni. Also, he has statistically struggled the most against...yup...the Angels this year, with a 2.20 WHIP and a .429 BAA in 2008. Ouch. Of course, this was only one start (small sample size anyone?) and ironically enough, it was at Fenway Park.
Now for some good news. John Lackey is almost as bad at home as Lester is on the road, with a BAA 30 points higher in Disneyland. However, he has dominated Boston in two starts this year - one at home and of course the one on the road that I'd like to erase from my memory completely. Versus the BoSox this year, Lackey has a 0.69 WHIP and a .132 BAA. Ouch.
Edge: ANGELS
STARTERS - GAME 2


Daisuke Matsuzaka vs. Ervin San-tana (AY!)
If you're a big believer in home/road splits, this game should calm you down a bit, because the Game 1 preview no doubt has you downing a fistful of horse tranquilizers. Daisuke Matsuzaka is 9-0 on the road this year. What's that? W-L record sucks? We'll high-five later. How's this for ya though: Dice-K's ERA is almost a full run lower on the road, his WHIP is 1.16 (as opposed to a 1.46 home WHIP) and his BAA is almost 60 (!!!) points lower. However, like Lester, the Dice Man struggled in his only start against the Angels this year. However, it was at home.
Ervin
San-tana (AY!)
has struggled mightily at home this year, to the tune of a 4.03 ERA, a .500 record, and 15 of his 23 home runs allowed. He has also started to come back down to earth a bit since the All-Star break, although his peripherals are largely unchanged. Methinks he was getting a bit lucky in the first half. He hasn't faced the Sox this year, but he is 1-2 against them lifetime, allowing 16 runs in just 22 innings.
Edge: RED SOX
STARTERS - GAME 3


Josh Beckett vs. Joe Saunders
Everything is fine. No one is hurt. Just a precaution. Fine, good, smile, happy times, go Sox...I'm sorry, where were we? Right. The 100% healthy Josh Beckett in Game 3. Since there is nothing wrong with him, there's nothing to worry about. Look, in all seriousness, I have no idea what's going to happen. Will he pitch? How deep will they let him go? How hurt is he? 80%? 90%? Here's what I can tell you. Beckett has been terrible at home this year. His ERA is almost 3 full runs higher at the Fens, he has given up more hits in 30 fewer innings, and his BAA is almost 70 points higher. He's also 0-2 against the Angels with a 7.43 ERA and a .345 BAA. (inserts gun in mouth) But wait. If I can give you two pieces of good news, it's these. Beckett does have one complete game against the Angels this year, going 8 innings on the road in a losing effort. Also, and this is a bit anecdotal, but the dude is just a different animal in the playoffs.
Meanwhile, Joe Saunders will take the hill for the Angels. He has fared much better on the road this year, going 10-3 with an ERA nearly 2 full runs lower than at home. He's also 2-0 against the Sox in 3 starts, both wins coming at Fenway. The good news is he has a 9/6 K/BB ratio vs. the Sox this year, and overall, he is not a strikeout pitcher, only recording 4.7 K/9.
Edge: ANGELS
CLOSER


Jonathan Papelbon vs. Francisco Rodriguez
If anyone thinks saves are an important or meaningful stat, you should probably stop reading here. Let's look at some real peripherals: K-Rod has a 1.29 WHIP. Papelbon's is 0.95. Pap's BAA is .223 - K-Rod's sits at .216. Seems pretty even so far...BUT K-ROD HAS MORE SAVES!!! ESPN TOLD ME SO! Please. Let's look at a few more and try to break this tie, shall we? K-Rod has a 195 ERA+, Papelbon's is 196. Jeez. OK, so let's look at three more super-geeky stats to try and resolve this - otherwise I'm going to have to say these two guys are dead even. VORP, ARP, and WXRL. First, let's define these bad boys. I'm sure everyone knows what VORP is - it stands for value over replacement player. It basically shows how much better a pitcher is at preventing runs as opposed to a theoretical "replacement player" - i.e. a pitcher who can be brought up from the minors, acquired from waivers, etc. The Chris Smiths and Eric Gagnes of the world. In 2002, Baseball Prospectus began calculating VORP differently for relievers than for starters, based on the knowledge that it is easier for a reliever to maintain a low runs-allowed average than it is for a starter. VORP is adjusted for park factors, but does not include defense. That said, here's what we got: Papelbon sits at a VORP of 20.5, and K-Rod is slightly higher at 22.3. OK, so I'd say that puts K-Rod in the lead slighty as we move on. Now I'm going to look at ARP, which is adjusted runs prevented. This shows how many runs a pitcher has prevented from scoring, adjusted for park factors and also adjusted for relievers as opposed to starters. Papelbon has prevented 17.6 runs this year, while K-Rod has only prevented 15.4. So we're back to even. Finally, I'll take a look at WXRL, which is win expectation above replacement, lineup-adjusted. This is going to show how many
team
wins (not individual wins) we can expect from a pitcher, adjusted to account for the difficulty of the lineups he faces. K-Rod has a small advantage here, with 5.660 wins versus Papelbon's 3.292 wins. This tips the scale back towards Rodriguez slightly, but I think it's so minor that I'm going to call it a draw.
Edge: EVEN
BULLPEN


Hideki Okajima, Justin Masterson, Manny Delcarmen, Javier Lopez, Tim Wakefield, and Paul Byrd vs. Scot Shields, Jose Arredondo, Kevin Jepsen, Darren Oliver, Jon Garland, and Jered Weaver
Bullpen has normally been the Angels strength in years past, but it looks to be somewhat beatable this year. They did have the 4th best bullpen ERA in the AL this year at 3.67, slightly better than the Sox 4.00. However, they have a bullpen BAA of .250, while the Sox sit at .247. AL average is .252. Since we've determined that Paps and K-Rod are almost identical, I'll save you some further geekery and call this one a dead heat as well.
Edge: EVEN
MANAGER


Terry Francona vs. Mike Scioscia
Anytime anyone compares these two, there's the cliche "two contrasting styles!" Personally, I prefer Francona's style, but it's hard to argue that Scioscia's doesn't work for his team. I personally think it looks foolish when a hit-and-run fails or a team bunts waaaay too much or gets caught stealing in a key spot, but the Angels are smart with their decisions, and now that they have Teixiera in the lineup, they seem to be taking less and less chances - therefore giving away fewer outs.
"Will... I... be... able... to... play... softball.. tomorrow?"
"No, by tomorrow you'll barely be able to breathe."
"Ohhh...... maaaan...."
Edge: EVEN
OVERALL OFFENSE
Numbers-wise, the Sox seemingly have a huge advantage here. Boston was 2nd in the AL in runs scored, sixth in homers, first in OBP, third in slugging, and second in OPS. The Angels rank 10th in runs, 9th in homers, 11th in OBP, 9th in slugging, and 10th in OPS. However, the injuries to Lowell and Drew are troubling, perhaps levelling the playing field a bit. I'm still giving the advatage to the Sox here - these numbers are too overwhelming. How much of an advatage is debatable.
Edge: RED SOX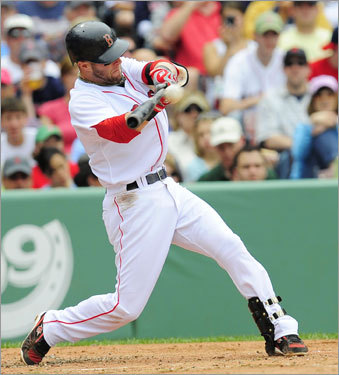 OVERALL PITCHING
When I broke down the individual pitching matchups, I figured the Angels would have a huge advantage here, but that doesn't seem to be the case. LA sits at 3rd in the AL in team ERA at 3.99. Boston is 4th, just behind them at 4.01. The Angels are tied for 3rd in (fewest) walks, 6th in strikeouts, and 5th in BAA. The Sox sit at 9th in walks, but first in strikeouts and 3rd in BAA. Clearly, Boston's biggest problem is the free pass (HI, DICE-K!). But they recoup for this for the most part by also striking a ton of people out. I know the individual game matchups don't look so hot, but these numbers do calm me down a bit.
Edge: EVEN
FINAL PREDICTION
This is awfully close. I think for the Red Sox to win this, a few things are going to have to happen. One of their starters is going to have to spin an absolute gem. They're also going to have to rough up one of the Angels starters. They're going to need Beckett to pitch like Beckett can, and if the injury is bad, then I'm going on the record and saying they're fucked. They're going to need Lowell and/or Drew (at least one of the two) to play and to contribute. Either that or they're going to need someone on the bench to emerge, either a Crisp or a Casey or a Kotsay. I am very very VERY hesitant to say this, but I'm going to take the
Red Sox in 5
.
Thoughts? Comments? Ridicule?