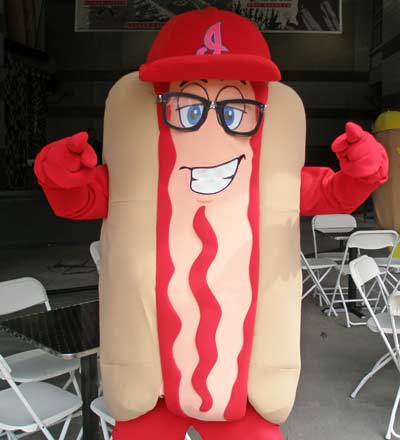 Red Sox v. Indians, 7:05 pm.
ZOMG AWKWARRRRRRRD! Paul Byrd (11-12, 4.53) will face his ex-teammates for the first time since being traded on August 12. Better look hot, Paul. Let 'em know you don't miss 'em. Maybe wear that red dress you bought but never wore because it was just a leeeetle too tight. Facing Byrd will be Fausto Carmona (8-7, 5.19), who hasn't faced the Sox since Game 6 of last season's ALCS at Fenway. What happened in that game? Oh, right, we beat him. THIS GAME IS SO AWKWARD!
Frivolous wager(s) of the night:
Last Friday (ON MY BIRTHDAY), Fausto Carmona got in a
TOTALLY EPIC fight
with Gary Sheffield, putting him in a headlock and raining blows down on his big fat head after Sheffield got uppity following a pickoff attempt at first. Look at this picture. Look at the awesome.
Sure, let's not lie: we'd all put Gary Sheffield in a headlock and punch the crap out of him given the opportunity. But I'm willing to bet Carmona's still feeling punchy enough to get in a fight with a Sox team that looooves them some pointless AL haterade. The lines on various players for "likelihood of getting put in a headlock by Fausto Carmona":
Jason Bay 1,000:1.
Like anyone's ever gotten in a fight with a Canadian. "I'm not your friend, buddy!" "Well, I'm not your buddy, guy!"
Coco Crisp 50:1.
Yeah, Coco likes to fight with pitchers. "HEY YOU STOP THROWING THE BALL SO I CAN'T HIT IT!"
Kevin Youkilis 20:1.
Feisty Latino temper + thousands of years of oppression at the hands of anti-Judaic masters = tension.
Paul Byrd 10:1.
Remember in
The Mighty Ducks
, when that blond kid cheap-shots Adam Banks to get him back for joining the Ducks? Yeah.
Jon Papelbon 5:1.
Definitely room here for either a fistfight or a seductive dance-off.
Dustin Pedroia 2:1.
Come on. If you ran into Dustin Pedroia, even YOU'D put him in a headlock. Or at least give him a wicked Indian (!!) burn.
Serious prediction of the night:
Thing is, the Indians, like, HAVE offense. I don't see either pitcher making it past the 4th inning.
...
...
...
...aww, it's the LAST time this season I'll get to do this (well, and tomorrow, but you know). Humor me!