Football season is almost upon us. As the summer continues to unwind, we at Mass Hysteria will be previewing the divisions in the NFL to prepare you for what will inevitably take over your life for the next five months. So grab your Doritos, drink a few cold ones, ignore your loved ones and enjoy.
Why the Falcons will win the NFC South


There is going to be a QB competition in Atlanta as rookie Matt "I am God to HZMLS" Ryan will be battling with Chris "How the fuck am I still contending for a starting job" Redman. Now call me bias, a little stupid, but I think Matty Ice has this one locked down. Finally the Falcons will have a legitimate QB, the first since Chris Chandler that knows how to orchestrate a team and not run around, get hurt frequently, and fight dogs. Another intriguing addition to the team is Michael Turner, who has been toiling away the past three years backing up LT in San Diego. He is one of the fastest RB's in the league, and will be an immediate improvement over past RB's like Warrick Dunn and Jerious Norwood. Rowdy Roddy White, who honestly I had never heard of before last year had a monster season in '07 and given a
Matt Ryan
a real QB should be a great #1 WR.
Why the Falcons will not win the NFC South
Matt Ryan is right now the #3 QB on this team. If the Falcons go into the season with Chris Redman or Joey Harrington as their starting QB the Falcons have no shot. The defense is in the process of being completely rebuilt after blowing chunks in 2007. Their cornerbacks are both youngins', and should get some tutoring from ex Patriot Lawyer Milloy and Erik Coleman. What Milloy will teach them I have no clue. With the exception of White, the weapons at WR are pretty poor. Joe Horn is pretty much useless now, and Alge Crumpler who had a terrible '07 is now not catching passes from Vince Young in Tennessee.
Why the Saints will win the NFC South
Drew Brees will be leading a prolific offense back onto the field again led by Marques Colston, Jeremy Shockey and Deuce McAllister. Colston has two years of experience under his belt now, and has emerged as one of the best receivers in the game. If the Saints can get a running game going with both Deuce/Bush contributing, they can control the ball and keep their defense off the field. Speaking of which they made some solid strides in fixing their defense which has been the Saints big weakness over the past year, they brought aboard Randall Gay and Jonathan Vilma. Good D's win championships and if they can have a decent D that should be enough to win the South
Why the Saints will not win the NFC South
Jeremy Shockey. I can not emphasize how much I hate him, and abhor his style of play. He might add another weapon to their already potent offense, but he is a loud mouthed baboon that causes more problems then he solves. I have my popcorn ready for Shockey's first big drop of the season, and a bottle of wine for when he is breaks a knee or shoulder or vagina, which should happen pretty quickly. So yeah Shockey is reason enough, well that and their lack of a legitimate second WR.
Why the Panthers will win the NFC South
The Panthers should be a contender again in 2008 as Jake Dellhome retakes the controls of a team that was QB'd last year by Vinny Testaverde, David Carr, and Matt Moore. The three stooges had trouble getting the ball to one of the best play makers in the league, Steve Smith, something Delhomme should have no trouble doing. The Panthers also had a fantastic draft, grabbing the best RB on the board (Jonathan Stewart), suring up their O-LIne (Jeff Otah) and getting Dan Connor all in the first three rounds.
Why the Panthers will not win the NFC South

Julius Peppers has a lot of weight on his shoulders, as the dominant Panthers defense of years past are long gone (ask my fantasy team from last year). Gone are the Kris Jenkins and Michael Ruckers, in are the Damien Lewis and Tyler Branton. Yeah, I've never heard of them either. Lots of question marks litter what was once the strength of the organization.

Why the Bucs will win the NFC South.
The Bucs know how to construct a defense, and even when star players leave they still can create schemes that can dominate even a good offense. Barrett Ruud and Gaines Adams now are the the men in charge up front, and new comer Aqib Talib has the prospects of becoming a super star CB along with
Tiki
Ronde Barber. Say what you want about Jeff Garcia, make all sorts of jokes about his voice (I know I do all the time), but there is something about this guy, that wins, no matter how shitty the offense is around him. He's SUPER!!!!!111!!!!

Why the Bucs will not win the NFC South
Their offense is terrible, Jeff Garcia can only do so much with the talent he is given. Joey Galloway is the #1 WR, and if he is covered Gay-cia, I mean Garcia can throw to Ike Hilliard and Michael Clayton. Shudders. Cadillac Williams had a putrid second year, lasting all of 4 games before becoming an invalid by the end of the season.
Hazel Maes Landing Strip's Pick to win the NFC South:
The Carolina Panthers
. I like the look of this team, I think Steve Smith is going to have a huge year (if Dellhome can healthy), and Jonathan Stewart is going give the Panthers a solid running attack. Plus they have the best cheerleades in football. SCHWING!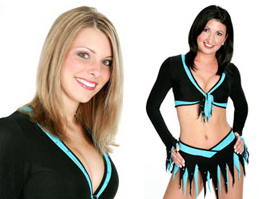 A Pimp Named DaveR's Pick to win the NFC South:
Okay, technically I wasn't fully aware of this division's existence. Therefore, I'm probably the last person to look to for quality analysis here. I'm just going to go ahead and rule out the Saints, because (a) Shockey is an ass, and God won't smile upon his team unless he's sitting in the luxury boxes with a broken limb, and (b) their uniforms are hideous, and teams with hideous uniforms usually don't win jack squat. I'm going to rule out the Falcons, because... come on, they're the
Falcons
. I'm going to rule out the Bucs, because I believe that none of their running backs meet Florida's legal definition of "living human being". (Insert Terry Schiavo joke here. Too soon?) So by process of elimination, I'm agreeing with HMLS and going with the
Pitt Panthers
, who are poised to tear up the Big East this year behind that young scatback Tony DORsett.
futuremrsrickankiel's Pick To Win the NFC South:
Oh hey guys, do we still have a blog? Life crises aside, I'm definitely going with the
Bucs
. Why? Because it won't be the Falcons, the Panthers, or the Saints. Those teams all suck. That's why.