Football season is almost upon us. As the summer continues to unwind, we at Mass Hysteria will be previewing the divisions in the NFL to prepare you for what will inevitably take over your life for the next five months. So grab your Doritos, drink a few cold ones, ignore your loved ones and enjoy. You can read past previews here: NFC West , NFC South, NFC East, NFC North, AFC West.
Why the Jacksonville Jaguars will win the AFC South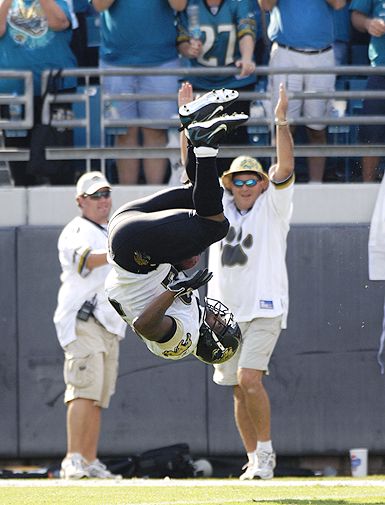 I have a little hard on for this team, call it lame, gay, whatever. I think they are going to be really nasty this year. I have swallowed the Jack Del Rio Kool Aid, and I think that Jags are going to be pretty sick this year. Fred Taylor and MJD are going to do two things this year: run for almost 2000 yards, and completely fuck over my fantasy football team. I swore off drafting RB's in a two RB system, they will prove to the world that I am a tard. David Garrard is a smart, accurate passer, who mark my word will be a top 5 QB with Reggie Williams being his main target. The addition of Derrick Harvey and Quentin Groves should give the Jaguars one of -- if not the -- best defenses in the league. Couple that with a hobbled Peyton-Marvin and the Colts are finally ready to fall.
Why the Jacksonville Jaguars will not win the AFC South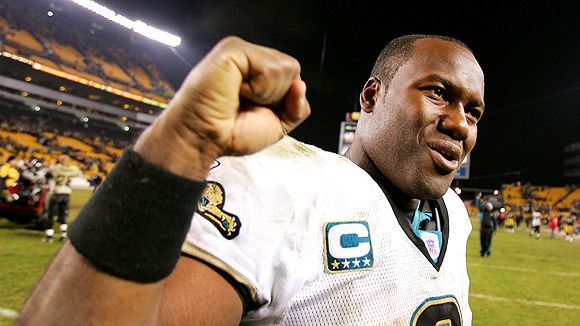 David Garrard is still unproven and will not win any games with his arm. He is a very conservative passer who relies on their wicked run game to help the pass. He doesn't have any game breaking WR's that will break off huge gains. Maurice Jones-Drew did not replicate his mind blowing '06 season, and Fred Taylor will be turning 84 this year and is primed to go down with his trademarked knee injury. If Taylor goes down and MJD can't carry the load, the offense could struggle to score points.
Why the Indianapolis Colts will win the AFC South
Why will the Colts win? The answer is: they are the Colts, that is what they always do. They still have Wayne, Freeney, Manning, Addai, Sanders and Dallas Clark. The offense will score a billion points, and the defense will do just enough to leave them in every game. The Colts will have a lot of pressure to win this year as they open up the Lucas Oil Stadium, which is adjacent to the now vacant heaping pile of shit RCA Dome. Plus they have Jamie Silva, but that shouldn't make a difference.
Let the shit talk start for my blatant unabashed homerism.
Why the Indianapolis Colts will not win the AFC South
Peyton Manning is still recovering from surgery on an infected sac. BAHAHAHAHA... sorry, moment of temporary immaturity. He has not had a chance to play much at all this preseason, and may be rusty going into the season. Knee injuries are scary, especially after a surgery. Have you ever really bruised your knee, you can barely walk around your apartment let alone avoid 300 lbs of charging Mario Williams. Couple that with Marvin Harrison, who is ancient/was completely useless in '07, and this could finally be the season the Colts relinquish the reins. Neighhhhh.
Why the Houston Texans will win the AFC South
The Texans finally put together a decent season in '07, and yet still managed to finish in last place. Matt Schaub, who missed the final four games of the season, will try to put together an entire season. When the dude is healthy he is a pretty solid QB, but with the Texans OL I doubt he will stay healthy. He has one of the league's best wide receivers in Andre Johnson, who, if he can play more than 7 games, could lead the NFL in all WR categories (sorry Randy). Remember all of us who laughed at the Texans when they took Mario Williams instead of Reggie Bush? Well, the joke's on us now. BEST DEE-FEND-ER EVER.
Why the Houston Texans will not win the AFC South
A team that has trouble staying healthy does not win a division. Plain and simple. Well, that, and your running back duo of Ahman Green and Chris Brown are very colorful (get it? Jesus, the stupid jokes are flowing...), but are terrible at running the ball. Though Mario Williams makes opposing QBs shit themselves, the rest of the Texans defense is pretty awful. They added Rosey Colvin, who could be a great complementary LB but will end up blowing out a knee by week 9. There are just too many holes on D for the Texans to compete against a Jacksonville or Indianapolis. Please don't kill me Mario, I will do whatever you ask.
Why the Tennessee Titans will win the AFC South
'07 was a turnaround year for the Oilers. Vince Young showed that he can win without throwing or running for a touchdown, even when throwing 2 interceptions. They finally got rid of
PACMAN
Jones and slapped a franchise tag on Albert Haynesworth. Hopefully he is ok with that idea, because we all remember what happens when you piss him off. LenDale White had a breakthrough season, breaking the 1000 yard mark all while keeping a 120,000 calorie diet. Pretty impressive. The Oilers defense was very good last year and even when Young has an off day (which will happen often), they can win games.
Why the Tennessee Titans will not win the AFC South
Vince Young is not going to be a good quarterback. This is going to happen for a couple of reasons. One, Young isn't very fast and doesn't have much of an arm. Two, when Justin McCareins is your number one receiver, you aren't getting much help. Here is a question to our faithful readers... do you honestly think that LenDale White can repeat the performance he put together last year? I don't. They have terrible cornerbacks who can be easily exposed by good WR's and probably will.
A Pimp Named DaveR's Pick to win the AFC South
: The
Yacksonville Yaguars
. The Jagoffs were an 11-win team when Indy was
not
beset by injury, age, and sac-woe.... Why would they drop off now? I'm not only going to pick them, but make a further Bold Prediction (tm): that the Jags and Colts will flip-flop last year's standings, with the Jags going 13-3 to win the division and the Colts going 11-5 while nonetheless qualifying for the postseason as a wild card. Sac!
GHABB,Y!'s Pick:
The Soon-to-be-Los Angeles Jag-Wires
. My reasons are partially because I hate Peyton Manning and his stupid sloping forehead, but also because Jacksonville is pretty fucking good. Garrard threw only THREE picks last year, or 1/3484th of Gritty McVicodin's yearly average. MJD is a midgety beast, and Fred Taylor seems to be only getting better with age, like Mary Louise Parker's ass, which I would eat anything out of. The Jags D is also getting better, and I think this will be a breakout season for Concussion Farmer Reggie Nelson, winner of the Lawrence Wright Memorial "Gator Defender I love because he knocks people the fuck out" Award. Speaking of Gators, pass-rushing manimal Derrick Harvey also signed this morning, meaning that they might actually have a pass rush for the first time, oh, ever. Seriously, the Jags' two leading career sack leaders are Tony Brackens (55 sacks) and Joel Smeenge (34 sacks). I don't even have a joke here. Meanwhile, the Colts are only getting older and more antique pistol trigger happy. I've also heard rumors that Peyton's knee injury is worse than he originally let on, and let's face it, without him, Indy is fucked like Audrey Hollander (look her up) on a Tuesday. So long story short, I'll go with the Jags, and if I'm right, I'll let Matt Jones snort lines off my taint. No homo, obviously.
futuremrsrickankiel's Pick to Win the AFC South:
Mmm, I actually agree with GHABB,Y! and the Pimp on a lot of the above points. HOWEVAH, it strikes me that, as old as he may be getting, Peyton is still as much better than David Garrard as, like, mint chocolate chip ice cream is than lukewarm water. The Jags have all the parts, but the Colts have a shut-down defense and a quarterback who's given us no reason until this preseason to think that he'll do anything other than lead his team to yet another division win. Old is old, but the Colts are the Colts. I pick
Indianapolis
.
Hazel Maes Landing Strip's Pick to Win the AFC South
Ok this is a division where I can finally make a pick that will be a complete curveball. This is pure genius, and you can laugh all you want but when they win the division you will say wow I read that somewhere. OH Right at MASS HYSTERIA. My pick is the:
Tennessee Titans
. Great defense, good offense they will stay healthy and win 12 games this year. Justin Gage is going to emerge as an excellent target for VY and Alge Crumpler will return to '06 form. Go ahead mock me, I dare you....