Oh god. Much as it PAINS me to see anything happen to my beloved Evan, I have to say it's a huge fucking relief to see him headed to the DL with a fractured wrist. I'm really, really sick of Tampa Bay and their can-do attitude.
BUT I'M REALLY SAD TO SEE MY FAVORITE ROOKIE HURT.
Wahh. Come to me, Evan. I'll kiss all your owwies and make them go away.
Seriously, though? With no Evan (WAAHHHH) and no Carl Crawford, I'd say Tampa Bay is toast this season. Bye bye, Rays. CHAD BRADFORD CANNOT SAVE YOU NOW BWAHAHAHAHAH
In Sox news, the word tonight is that dimpled cutie Charlie Zink, a PawSox knuckleballer who pitched for Luis Tiant in college, will be summoned to fill Wakefield's spot on the roster.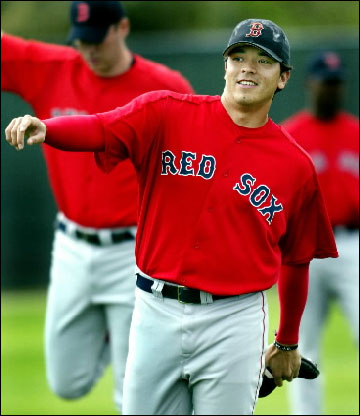 Zink's posted a 13-4 record with a 2.89 ERA over 25 starts for Pawtucket this year. Personally, I'm thrilled. The Sox rotation just got like 20% more bangable. Tune in tomorrow night to watch him take on the mighty Rangers bats. Eep! Color me excited.