With one out on Saturday evening, Jason Varitek stepped up to the plate with the chance to break the game open against Mariano Rivera and take the 3rd game against the Yankees. On a 2-0 pitch Tek hacked at a high change-up, blew the game, and in one at-bat summed up the direction his career is heading in. He has become an undisciplined hitter who can't seem to get a hit when the team needs it, can't keep up against good pitchers, and goes through streaks where he can't hit anything . There is no denying that Varitek was crucial in helping this team to get where it is now -- fighting for a 3rd championship. Yet (it pains me to say this, and I love the guy and appreciate what he has done for the team...) the Sox need to figure out both a short-term and long-term solution for catcher that doesn't involve our Captain.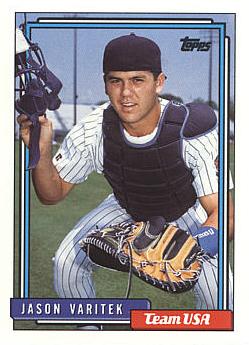 Now I know what most of you are going to say: "He calls a great game and handles the pitching staff well." Ok, you may think that, but statistics show that catchers rarely have any effect on a pitcher. Bill James in one of his strokes of genius
quantified this back in 1999
when he showed that catchers at most can only affect a pitchers ERA by .01 every year. Stand back and look at some of the pitchers who have come and gone to the Sox. For the most part, they don't become a whole new pitcher. They follow either the normal progression of a pitcher or stay consistent (when you add in park factors etc.)
Matt Clement (with the Cubs): 2004: 120 ERA+
Matt Clement (with the Sox): 2005: 99 ERA+
Ok if you think that is fluky:
Bronson Arroyo (with the Sox) 2005: 100 ERA+
Bronson Arroyo (with the Reds) 2006: 142 ERA+ (2007: 110 ERA+)
The next argument you may bring up is that Varitek has caught more no hitters than any other catcher (4). Well, again according to James, this would has more with the quality of pitching the Sox have then the game calling ability of Varitek. Derek Lowe was getting ground balls all game, Buchholz and Lester were spotting their pitches and changing speeds, and Nomo beat on the Orioles. Jason Varitek could call the "best game" of his life, but if the pitcher doesn't have the stuff, there is no way a pitcher throws a no hitter. Could the current Red Sox pitching staff survive without Varitek? Easily.
Now let's examine his hitting this year, which to be kind, sucks. He started the year off on a tear... he showed good power, and was getting on base regularly. But as the season has progressed he has easily become the worst hitter on the team. Despite all this, he gets a free pass (mainly for the arguments listed above) while Julio Lugo gets ripped mercilessly.
Julio Lugo .263/.351/.328
Jason Varitek .218/.300/.358
See Red Sox fans look at that! Jason Varitek, our captain, cannot hit. In fact, he is a worse hitter than our #9 hitter that we all shit on. It seems over the past two weeks every time the Sox need a hit, Varitek is up, and does the same thing every time, which is hit into a DP or strike out. The slump Varitek has been mired in for the past month is scary bad, and has continued into July. In June he hit .122/.205/.176, which is close to the craptastic numbers that Tony Clark put up here in
2002
, and Mark Bellhorn during that terrible slump in
2005
. What do Clark and Bellhorn's seasons have in common? They were both not on the roster the next year. Hint Theo: Look for a solution to this problem NOW.
Now what would we do if we got rid of Varitek at the end of the season, or in the middle of the season as some people suggest (which I think is insane)? Could George Kottaras or Dusty Brown take over? With the offense they have shown in Pawtucket (.347/.378 OBP) that is a possibility. The list of free agent catchers shows little upgrade over what we have right now: Bengie Molina, Ramon Hernandez etc. There is always looking elsewhere for young catchers, but catching is a hot commodity and a Saltalamacchia would cost two-three top level prospects if the Rangers would consider this at all. But with his age, injury risk, and offensive production, Jason Varitek may be forcing the Sox to look in that direction. I can say that I appreciate everything that Tek has done for the Red Sox, and in my mind he will always be the Captain, but it's time to move on and give Tek more time with the kiddies down in Disney World.