Tonight, at the Metrodome, the Sox and Twins will be in the midst of the fourth game in their four-game Mother's Day weekend contest, the last out of the top of the fifth inning will have just been recorded (my guess: Julio Lugo pops out to second with a runner on third), and the Red Sox' 2008 season will have reached its exact quarter mark. So herewith, without further adieu, the first part of the first in a series of quarterly features we call....
The Good...
The Bad....
and The Ugly.
(cue appropriate Ennio Morricone music)


Part One -- The Good

(1) Dustin Pedroia

"Sophomore slump" our collective asses. The reigning Rookie of the Year picked up precisely where he left off last year, playing solid (and sporadically terrific) defense while providing precisely what Theo, Bill James, and their dark, Satanic statistical mills (not to be confused with bench coach Brad Mills, of course) wanted from his bat: a decent OBP (.344) and good contact-hitter ability (which complements #2's getting-on-base skills... but more on that anon). Plus, he's provided us with some of the worst acting ever in the history of the universe via his series of Sullivan Tire commercials. He's not perfect -- you'd still like to see him work pitchers more and get more walks (only 10 in 182 plate appearances), but seeing as how some ROYs crash and burn in year 2 (yes, I'm looking at you, Eric Hinske), you've gotta be pleased with Pedroia continuing to play at the level of "one of the better 2B in the AL".
(2)
Jacoby Ellsbury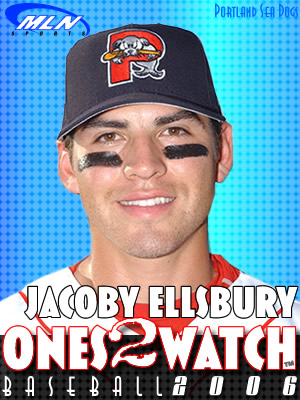 Nah.... it's not like anyone put any pressure on this kid or anything. I mean, who among us
hasn't
been thrown into the starting lineup in the World Series and then been tabbed to take over center field for the next 15 years? So how has young Jacoby responded to being immediately expected to be the next Johnny Damon?
By being the next Johnny Damon.
Ellsbury has played in 35 of the 40 games to date, and -- by my count -- has done exactly NOTHING wrong. He shows tremendous instincts at the plate, shifting between aggressive and defensive postures based on the game situation, and is always a threat to drop a bunt down on an unsuspecting infielder. His stolen base abilities add a new dimension to this offense, which has been (IMHO) overly reliant on the "get a guy on base and wait for Manny/Ortiz to drive them in" strategy (also known as "the Earl Weaver") in the past couple of years. Given his talent level, you'd probably like to see him take it a little easier on defense, though -- every time he dives for a ball, visions of broken collarbones dance in my head. All in all, though, Ellsbury has given us everything we could have hoped for so far, and then some.

Also, I hear he's easy on the eyes for the ladies. Or so I'm told.



(3) Kevin Youkilis
The numbers speak for themselves: .400 OBP, .596 SLG, 8 HR, 30 RBI, 0 errors, 1
infrequently-updated blog
, 8,874,762 local children terrified by his unfortunate facial hair. Those fans aren't booing, they're just chanting "carrying the team during Ortiz's rehabilitation and Manny's slump".
Would rank higher on this list, except he's already considered to be an All-Star (or near-All-Star) level player. I don't think anyone expected Papi numbers out of him, though, nor did anyone reasonably foresee a situation in which the statement "Youkilis is batting fourth" would not result in guffaws and heavy wagering on the opponents.
Honorable Mentions:
Coco Crisp -- A guy in a bad situation through no fault of his own, but who has responded to it with class (no complaining) and solid production (he's finally looking like the hitter he was in Cleveland). Although a certain segment of the fanbase (read as: the functionally retarded typical WEEI caller) hates him, he's not the outfielder who should be traded away ASAP. That would be the guy whose name rhymes with "Hey, He Poo!"...
Kevin Cash -- The hatred of Mrs. Ankiel notwithstanding, Cash has been exceptionally productive as Tim Wakefields sperm knuckleball receptacle this year, providing some surprisingly solid hitting (.375 AVG, .435 OBP) and acceptable defense (only 6 PBs and 3 errors) in his limited appearances. Remember: he's paid the minimum. That's value. Or at least better value than Doug Mirabelli would have been.
Clay Buchholz
-- He's definitely been up and down, but has generally done a
competent
job in his first full quarter-season, with only
two
three of his
seven
eight starts being true stinkers.
[Ed. note: updated for games of 5/12]Later today.... the bad, and the ugly.