CARACAS, Venezuela -- Former Major League pitcher Geremi Gonzalez, who won 11 games for the Chicago Cubs in 1997, was killed by a lightning strike in his native Venezuela on Sunday. He was 33.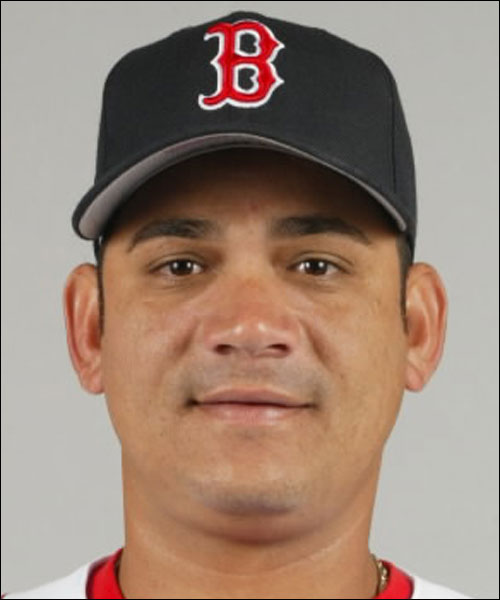 He was more special than 99.99998% of the people on the planet, because he was a major league player.... but he wasn't anything special.  Hell, it turns out we weren't even
spelling his name right
.   He wasn't a superstar.  He was just another journeyman who had
juuust
enough life in his fastball to hold down a job in professional baseball.   And now, because of a truly freakish stroke of bad luck, he's dead at age 33, his death barely a footnote on the last page of the sports section.  
But he was one of our guys.  And I'm not going to let him pass without a proper send-off.
People around here weren't excited when the Red Sox signed former Cubs phenom Jeremi Gonzalez as a free agent to a minor league deal before the 2005 season.  In fact, outside of the hardcore Hot Stove fan base, people probably didn't even notice.  Gonzalez was one of Theo Epstein's "value" acquisitions -- a guy whom even the pitching-starved Devil Rays had jettisoned, equipped with a truckload of physical baggage.  But he was cheap, and if he didn't pan out, the club was not saddled with a big contract.  Strategically, Gonzalez was more of an insurance policy for another of Theo's "value" acquisitions -- former Astros star Wade Miller, who was coming off reconstructive shoulder surgery.   
Gonzalez had suffered more than his share of injury problems over his career.  He had come up through the Cubs system as part of their surplus of premium pitching talent (along with Kerry Wood and Mark Prior), and posted an impressive 11-9 record with a 4.25 ERA in 23 starts in 1997, finishing 9th in the NL Rookie of the Year balloting.  But he blew his elbow out in 1998, and needed Tommy John surgery.  It was the first of multiple surgeries that would keep him out of the major leagues for five years.  Reappearing with the Devil Rays in 2003, he was an extremely effective starter on that poor (63-99) ballclub, posting a 6-13 record with a gaudy team-best (among starters) 3.91 ERA.  But arm troubles arose again in 2004, and Gonzalez was demoted to Durham (AAA) after surrendering 26 earned runs in 35 innings over 8 starts.
So very little was expected of Gonzalez.  But he actually pitched well with the PawSox (5-2, 2.61 in 11 starts for the season), and earned a call-up to the big league club in May, when both David Wells and Curt Schilling were down with injuries.    He... well, he didn't make anyone forget about Pedro Martinez.   Nor did he give the team a reason to dislodge the incumbent fill-in fifth starter, Brandon Bronson Arroyo.  He did win his second start for the team -- the first game of a doubleheader against the Mariners on May 8th, in which the Sox beat their future "closer" Jor-el Pinerio 6-3.  But you don't remember that game at all.  You DO, however, remember the second game of that doubleheader, specifically the point when a terrified rookie named Cla Meredith watched his attempt to throw a bases-loaded fastball past Richie Sexson land somewhere in the vicinity of San Diego.   

For Gonzalez, though, a third start -- again, against the Mariners -- in which he was battered for 7 runs in 3+ innings was the end of the experiment.  He stuck with the team for another week or so, pitching twice in long relief, and then was sent back to Pawtucket.  He returned right before the All-Star Break and stuck around for the rest of the year as the staff mop-up guy.  With the exception of a couple of absolutely terrible outings, he pitched fairly well.  But not well enough to earn another shot at starting.  Instead, the three spot-start opportunities before the September call-up period went to a guy with more upside potential than the oft-injured Gonzalez -- a kid from Mississippi State named Papelbon.  Gonzalez did pitch once in the ALDS against the Pale Sox, coming into game 1 in a mop-up role with the Sox down 8-2.  Not long after the Sox' quick exit from the playoffs, Gonzalez was released.  
And that was the last that Red Sox Nation heard, or cared, about Jeremi Gonzalez.  He continued to play baseball, hooking on with the Mets in 2006, who then traded him to the Brewers after three mediocre-to-terrible starts.   He had an unremarkable season with Milwaukee, going 4-2 with a 5.14 ERA as a long reliever.  (He also told the team that it's spelled "Geremi," not "Jeremi.")  They released him at the end of the season.  He caught on with the Blue Jays organization in 2007, getting five starts at Syracuse (AAA) before jumping to the Yomiuri Giants in the JCL.  He didn't catch on in Japan, either.
And then he was struck by lightning and killed.
Jeremi/Geremi Gonzalez was not the finest pitcher who ever put on a Red Sox uniform.  Not even close.  He was just a guy with God-given talent -- but not quite enough God-given talent -- who caught a lot of tough physical breaks but kept on trying to compete and keep his job.   While I'd definitely prefer to have a team full of phenominally gifted athletes like Pedro Martinez and Josh Beckett on my team, I think I feel a stronger bond to the Geremi Gonzalezes, and the Julian Tavarezes, and the Jeff Grays, and the Rheal Cormiers, and (yes) the Dana Kieckers of the baseball world.  They, like you and I, have to deal with the realization that they're never going to hit the home run that wins the World Series -- they're just struggling to keep on keepin' on.   I think that's why I'm not as hard on Julio Lugo as (ahem) certain other bloggers on this site have been.  It's not Lugo's fault that he was signed to a terrible contract in a largely inexplicable move by Theo.  Is the guy trying to improve himself?  Yes.  So I can't get on him that hard for stinking up the joint this year, in the same way I didn't get on Jeremi Gonzalez for being a mediocre long reliever in 2005.
Gonzalez leaves a wife, Maria, and at least two children -- his son Jerimar and his daughter Gissel.  (I'm not implying anything here -- I'm just not sure that he didn't have any additional children after the 2005 Media Guide was printed.)  He wasn't a footnote to them.
And even though he wasn't an All-Star, he was still Red Sox people.  He shouldn't be dead at 33.  And we shouldn't let him be a footnote.  It was only for a year, but he was our guy.
January 8, 1975 - May 25, 2008