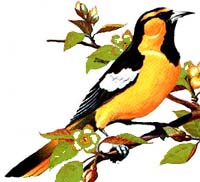 Your Boston Red Sox return from their west coast
debacle
road trip tonight, albeit not all the way back to Boston. First up is a four-game spin through the friendly confines of the Yards of Camden (also known as "Affordable Fenway South"), home of one of the worst-run franchises in the major leagues. And after crapping the bed against both a team with a payroll smaller than your shortstop's salary (Oakland) and a team that only recently became aware that the season has actually started (Seattle), what better way to improve your fortunes than an extended series with the
Kevin Millar Travelling All-Stars & Motor Kings
?
The Orioles are, right now, the very definition of "average team." They're roughly in the middle of the AL rankings in virtually every statistic, and sit at precisely .500 with a 26-26 record. Their highest paid players are those immortals of the diamond Aubrey Huff ($8m), Melvin Mora ($7.8M), and Ramon Hernandez ($7.5M), who are hitting .244, .258, and .222 respectively. Their staff ace, Eric Bedard, and lights-out closer, B.J. Ryan, aren't actually playing for the team anymore. And yes, our old friend Kevin plays a significant role on the team. (And has played pretty damn well this year, mind you...) They show up, they play, they win half the time. Sadly enough for Baltimore fans, that's actually an improvement from the last couple of years.
It's been a rough... couple of decades for the fans of the Baltimore American League franchise. Now I'm not saying that karma exists or anything, or that you shouldn't mess with success, or anything of the sort, but I do want to point out that the Birds have won precisely squat since this little fella was whacked and disposed of in the Outer Harbor:
Of course that might also have something do to with the team no longer having players like Cal Ripken, Jim Palmer, Dennis and Tippy Martinez, Eddie Murray, Rick Dempsey, Mike Cuellar, Paul Blair, Al Bumbry, Mike Boddicker, and Mike Flanagan anymore.... but I blame the ornithologically-correct bird.

Anyhoo, your pitching matchups for the home-away-from-home series are as follows (Bermanesque mocking nicknames at no extra charge):
Tonight: Beckett vs. Daniel "Lil' Pedro" Cabrera
Saturday: Lester the Molester vs. Garret "Stop Calling Me Nellie, Dammit" Olson
Sunday: Fatty McFatfat von Fatstein vs. Brian "We Were So Poor, We Couldn't Afford the Last S" Burres
Monday: Mothra TBD vs. Jeremy "Arlo" Guthrie.


Speaking of Monday's non-starter, Mothra-K was placed on the 15-day DL today. I believe the official injury is listed as "my shoulder is full of shame and dishonor, hai!". Or maybe it was "rotator cuff strain". My Japanese is pretty poor. This marks the first time Matsuzaka has been disabled in his US professional career. The Sox called up Jeff Beetle Bailey from Pawtucket to fill the roster spot; Bailey is almost certainly a temporary call-up to provide an extra bat until a replacement starter is needed on Monday or Tuesday. In all likelihood, Tim Wakefield will take the Monday start in Baltimore, with Justin Masterson (whose Pawtucket schedule has been modified to put him in line for a Tuesday start) called up to face the Devil Rays on Tuesday. The nearly-ready-to-go Clay Buchholz is also an option should the Sox decide he's fully recovered from his "blister." (I believe the Latin term for that particular malady is Bartolocolonis Gottabecalledupis Orwegottareleasehimus, which thankfully isn't as severe as the case of Rulefivedraftis Fakeinjuryus that Lenny DiNardo contracted a couple of years ago.)



In other disturbing news, the kicker at the end of this
AP story
notes that J.D. Drew is suffering from vertigo, which is why he's been out of the lineup recently. Uh oh. Much as I dislike the guy (you fuck with the Phillies, you fuck with me), he's our guy now and we're on the hook for his salary. And he's
not going anywhere
, so we're stuck with him. And the last time I saw "Red Sox player" and "vertigo" in the same sentence, it
completely ended a promising career
. Color me slightly worried.