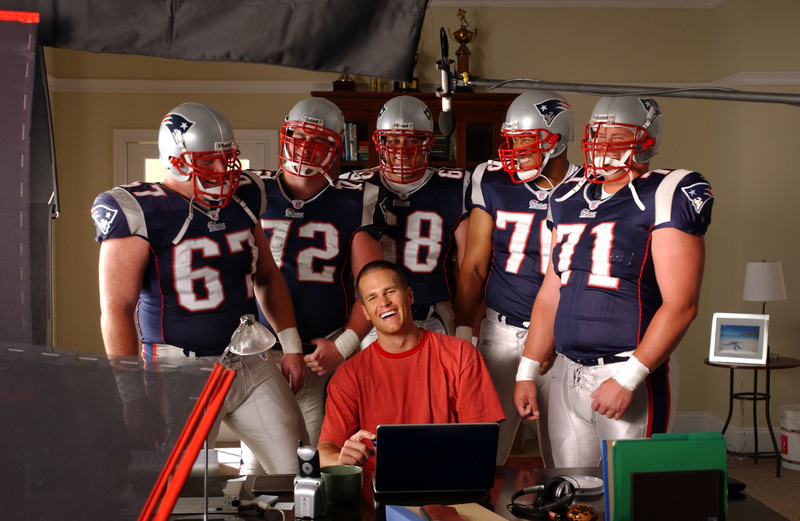 They are large, many of them are grossly overweight, but they are going prevent defenses from turning superhunk Tom Brady into a liquefied mess. During the Super Bowl (ouch it hurts to even mention it), it was painfully clear that the Patriots need to improve their depth at the O Line, because after two of the linemen went down the Giants had their way with the subs . Again this is a position in the past that Belichick has gone after in the first round, and like CB if they trade down they could find some solid value late in the first round. Here is a look at some lunks that could be on the Pats radar. I am going to ignore Jake Long, because he will be long gone before the Pats pick.
Gosder Cherlius- OT- BOSTON COLLEGE
- This is a complete homer pick here, but he is at least going to be drafted in the 1st round (everywhere I read that the Steelers like him alot). He is enormous, 6'6 and over 330 Lbs, with great movement and raw strength. Scouts say that he will be able to contribute immediately at Tackle, but his footwork needs some improvement if he slides over to Guard. Got completely overwhelmed by blitz packages last year at guard. Last year was arrested outside the Greatest Bar after he got in a melee with a Patron along with an undercover cop. Claims he was working as the peace maker.
Riiiight
.
Branden Albert -OG- Virginia
. Second ACC person on the board. Good quickness, great moves has that instinct to follow through on plays to the end. Great pass blocker, but struggles to block the run. Three Year starter for the Cavs, he started mostly at guard, and only learned football as a Junior in High School. Another player who is good, but hasn't shown what his true potential could be. His ability to learn the game quickly is something that Belichick will be looking for a position that demands a fast learning curve. A real gifted athlete who played high school basketball with ex Hoyas BBall Star
Jeff Green
Ryan Clady- OT- Boise State- A sure top of the draft type player, who according to scouts is a can't miss prospect. Real quick and agile, can clamp down an entire side of the field. Plays with a nasty demeanor, can be real physical when needed. After Jake Long he probably will be the next lineman drafted. Scored a 13 (the lowest of anyone in the NFL draft) on the Wonderlic Intelligence test, which is the lowest possible score you can get. If that score was translated into an IQ score he would have had an 86, which is on the cusp of being borderline retarded. Still had a better score than
Vince Young
.

Sample Wonderlic Questions Include
: (thank you tWWL)
8.
When rope is selling at $.10 a foot, how many feet can you buy for sixty cents?
9.
The ninth month of the year is
1. October, 2. January, 3. June, 4. September, 5 May.
10.
Which number in the following group of numbers represents the smallest amount?
7 .8 31 .33 2
If you got any of these wrong, you probably should X out this blog immediately...
Carl Nicks- OT- Nebraska-
Raw talent at its finest, he has all the tools to become a high level talent in the NFL. Unfortunately he hasn't played that much, only starting two years at Nebraska. Probably will drop to be a tweener. Doubt that the Patriots would be interested in him at 7 but if he is around in the second round he might be someone they might look at. Also brings a wife and 3 year old daughter to the table. Can start contract negotations by demanding more Wiggles DVD's and Dora the Explorer dolls for his daughter.

Jeff Otah- OT- Pittsburgh
. Probably the most underdeveloped guy in the group with the biggest upside. He is one of those players that scouts watch and get a stiffy watching, wondering how could he could become. Could be a project, which makes me think that Belichick would not waste his time on him. But Bill is always a mind-fuck. Otah was born in Nigeria and went to military school before he came to Pitt. Can kill a guy 65 different ways with a broom.
There you have them, some potential lard lads who could be catching the attention of the Patriots at the draft this year. As discussed before Belichick has gone after Offensive lineman in the first round in the past (Dan Koppen, Logan Mankins) mainly because this is a position that either they have the skills or don't. Though Belichick may not spend his first pick on an O-Linemen, I could see him going after one late in the 1st round if they trade down or in the 2nd round.
Photo courtesy of Boston.com