I don't think it's gotten much press attention in this town, but the Red Sox actually had their home opener today. And apparently they won some sort of "championship" last year as well, which somehow involved the Boston Pops. News to me!
Anyhow, this pimp and one of his many fine ladies took in this exhibition of baseball today, and humbly submits this report for your enjoyment.
First, I'd like to thank the MBTA for arranging to have the D line train leave just as I was arriving at the station, and holding further service on the D line for about 15 minutes or so as part of their "increased" service for the home opener. I didn't really need to see that first part of the ceremony at all, really.
I did at least get to see the unveiling of the new banner, and found that the view from Section 19 is... well, pretty much the same as it's been for the last 25 years.
The ceremony was very similar to 2004's ceremony, except without the flock of former Sox players. The failure to tell us
who those people were
was one of the biggest flaws of that 2004 ceremony. That, and the utter lack of crowd control and people flow planning that led to (a) a huge proportion of the crowd getting stuck under the stands and (b) me almost getting into a fistfight with one of the brownshirt security assholes who APPARENTLY LACKED THE MENTAL CAPACITY TO FUCKING REALIZE THAT NOBODY COULD MOVE, HENCE I COULDN'T GET OUT OF HIS WAY. But I digress. Replacing the former Sox players in World Series Ceremony v2.0 was a dodectet of Boston Champions, namely 4 players from previous champion editions of the Celtics, Bruins, and Pats. Well done, and the crowd loved it.
After that, the players (including former players Royce Clayton and some guy named Mirabelli) received their 2007 rings. I couldn't help but notice that Kyle Snyder didn't get a ring, or at least his name wasn't one of those announced. I don't know whether this was some sort of league-related consequence of his designation for assignment, or by his choice, or just a rare display of assholery by the team, but Kyle earned his ring and should have gotten the small cheer he deserved. Ten demerits for the Sox on this one.
Following the rings, and the introduction of the lineups, you know what's next -- BIG FARKIN' FLAG!!!!!
The Boston Pops (visible in short center field) played Our National Anthem, a stirring old British drinking song turned into a solemn.....
AIR RAID!!! AIR RAID!!!!! GET DOWN!!!!!!! THIS IS NOT A DRILL!!!!! I THINK THE HAWK HAS CALLED IN REINFORCEMENTS!!!!!!
Oh wait -- just a flyover by the Air National Guard. Never mind.
That left only the first pitch, to be thrown by..... #16, Bill Buckner.
This was a moment that was long overdue, by Buckner's choice. (He was invited to come in 2004, but declined the invitation.) Nobody blames Bill for '86, and anyone who still does is just demonstrating their ignorance. This is a discussion for another post, and I'm not going to raise it here. This was Bill's moment, and it should stand on its own.
Incidentally, Bob Lobel was sitting in the front row behind home plate -- and pretty much EVERY one of the athletes involved in the ceremony went over to shake his hand. I'm still in disbelief that WBZ would voluntarily cut him loose...
Oh, there was also an actual game played, too. Now pitching (
pitching pitching pitching
).... number eighteen (
teen teen teen
).... MOTHRA!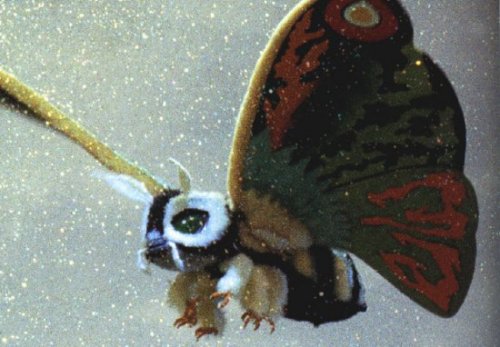 Mothra is a friend to children! Mothra benefitted from a rather generous strike zone from the svelte Greg Gibson behind home plate! Gibson at least displayed no bias in his generosity. I thought Manny -- who walloped an improbable inside-the-park triple-error on the throw home-run-like-hit off the washed-up beer league softball pitcher pretending to be Kenny Rogers -- was going to get tossed for arguing balls and strikes. (And it didn't even seem to be a controversial call, either.) Mothra was not spectacular, nor did he seem to have any exceptional pitches going today -- he just put on a clinical, effective, and -- most encouragingly -- efficient performance (108 pitches) before being lifted in the 7th so the Delcarmen/Okajima pu-pu platter could finish off the game.
Other than the aforementioned Manny... um... near-blast, the Sox runs were of the string-a-pair-of-hits-together-well sort; while they were all over Kenny Rogers, they left a ton of guys on base and never were able to get that one extra hit that would have knocked him out early.
But that didn't matter, really, because... my God, the Tigers are pathetic right now. NONE of these guys is hitting a lick. Bad swings, bad pitches taken, no confidence at the plate -- be glad we're getting this truly loaded team right now, when there's a reasonable chance for a sweep.
A strange and surreal seventh inning stretch (say that ten times fast) saw an actual video -- like, an honest-to-God "I made this for you people"
video
-- of "Sweet Caroline" sung by the man, the myth, the legend himself, Neil Diamond. Surreal because
Larry Zucchino
Tom Werner was one of his backup singers, as was Wally. While I love me the Diamond, I'm not a fan of this "Sweet Caroline" crap at all. SO LAME! SO LAME! SO LAME! What worked well at frat parties at UMass back in the early '90s is now just overdone and pink-hattish. Hence, I'm not going to discuss it. End of story. The strange video made more sense, though, when a
second
video was shown with
Leisure Suit Larry
Tommy Boy inviting Neil... to play Fenway! August 23rd! Unsurprisingly, Neil agreed. (Let's hope he can stay out of jail between now and then, unlike... ahem...
certain members of the original choice
to play Fenway this summer.)
So in summary: Buckner, Mothra, Tigers are terrible right now, Diamond, win.
And just in case you forgot: